40 ideas a day to cut red tape
In just 5 working days, the Communities Secretary's call for suggestions about cutting red tape has attracted more than 200 ideas.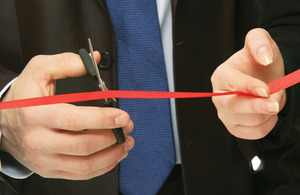 A number of ideas have caught Communities Secretary, Eric Pickles' eye and he has written back to some of those individuals to thank them for taking the time to send them in. They include:
a Bournemouth resident, who told the Secretary of State, on his visit to Boscombe that there were hundreds of people who wanted to volunteer to help with the upkeep of parks but all the 'health and safety' forms and supervisory rules prevent communities from getting involved
in Fylde Coast, a resident wrote that the law that forces councils to advertise when they transfer public space ownership between county and parish councils wastes taxpayers' money
1 of the ideas from Shropshire was that all of the rules for preparing local development plans should be consolidated into a single set of regulations
in Northampton, a resident suggested getting rid of central government targets because they are time consuming and about box ticking not improving services
Eric Pickles said:
"Too much power has been sucked out of communities into Whitehall eroding trust in politics, and sapping responsibility and initiative with stifling bureaucracy.
"It is great to see frontline council workers making localism a reality by helping us cut back red tape, wresting control away from the bureaucrats and reversing the years of creeping state control.
"In a week we've already had over 200 ideas from people who know what is getting in the way of them doing their frontline job. Keep them coming."
Have your say
On 7 July 2010 the Communities Secretary called on council staff and sector experts to submit their ideas. The Communities Secretary is keen to hear more ideas. If you have thought of something that will make work easier but have not told anyone yet or know of some DCLG sponsored secondary legislation, statutory guidance or regulation that should be scrapped - then have your say by emailing cutredtape@communities.gsi.gov.uk.
While we cannot guarantee that we will implement all suggestions they will all be considered.
Watch a video about cutting red tape
Video transcript (MS Word Document, 25KB)
Published 16 July 2010