News story
4 new lay members of the Advisory Committee on Conscientious Objectors
The Lord Chancellor has appointed Linn Phipps, Monica Ford, Nadia Motraghi and Professor Peter Edge as lay members of the Advisory Committee on Conscientious Objectors.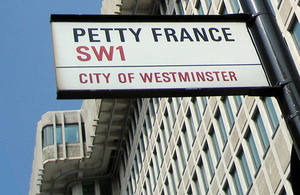 The Advisory Committee on Conscientious Objectors (ACCO) is an Arm's Length body of the Ministry of Defence but lay members are appointed by the Lord Chancellor. Lay members assist in the conduct of ACCO hearings by providing a lay view and feeding in to subsequent decision making.
The appointments are subject to the completion of appropriate security checks.
Nadia Motraghi has declared political activity during the 2010 general election when she distributed flyers for, and donated to the campaign of, an independent candidate. None of the other appointees have declared any political activity.
Linn Phipps
Linn has worked at Board level in a wide variety of organisations in both executive and non-executive roles for 20 years. She is currently one of four Patient and Public Voice Representatives with NHS England Clinical Priorities Advisory Group, a lay member of the Independent Reconfiguration Panel, Director of Ceist Consulting and has previously been a lay member of the NHS Advisory Group for National Specialised Services and a non-executive Director with Leeds & York Partnership NHS Foundation Trust.
Monica Ford
Monica is a barrister with a practice exclusively in family law, ranging from magistrates' courts to the Court of Appeal. She has represented clients is cases concerning child residence and contact, domestic violence injunctions, child abduction and divorce proceedings including financial remedy.
Monica is the Chair of Complaints Panel for 14 Gray's Inn Square where she practices and has previously held the posts of Vice Chair of Complaints Panel, Equality and Diversity Officer, both at 14 Gray's Inn Square. She has also been a non-executive Board Member for Kelsey Housing Association and a Member of the Regional Legal Services Commission, South East Committee.
Nadia Motraghi
Nadia is a barrister and member of Old Square Chambers specialising in employment, discrimination and regulatory law. She was called to the Bar in 2004. Nadia also sits as a member of the Bar Disciplinary Tribunal hearing professional misconduct charges against barristers.
Nadia has held roles as a part-time lecturer and teaching fellow at Harvard University and Kings College London and was a visiting human rights fellow at the European Roma Rights Center, Budapest. She studied at the University of Oxford, Harvard University and Harvard Law School.
Professor Peter Edge
Professor Edge is Professor of Law at Oxford Brookes University. He joined Brookes, as Reader in Law and Religion, from Lancashire Law School. He publishes widely on the interaction of religion and law, both in the UK and internationally.
Published 30 July 2015