News story
£3million award boosts growth in local high-tech company
Mark Prisk also toured the factory and met a number of staff including electrical apprentice Bethany Rowell. Business and Enterprise Minister…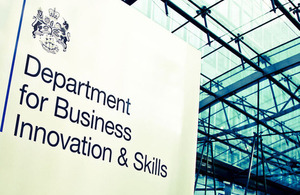 Mark Prisk also toured the factory and met a number of staff including electrical apprentice Bethany Rowell.
Business and Enterprise Minister Mark Prisk said:
"It's a real pleasure to visit this dynamic company and congratulate them on their Regional Growth Fund award. Their new site makes sustainable use of Brownfield land and will allow their highly technical business to develop and grow.
"It's also good to meet members of a skilled workforce, including local apprentices. The Regional Growth Fund is all about helping local people unlock growth in their area and give a real boost to the economy. It's good value for the taxpayer too, delivering approximately £6 for every £1 of RGF money, which will help us make the UK the best place in Europe to start, finance and grow a business."
In February this year the company was awarded £3.1 million from the Regional Growth Fund, which helped to unlock private sector funding as part of a £12.7 million investment in new premises at the White Horse Business Park in Trowbridge. The new site will include research facilities and create 21 new jobs, while safeguarding existing ones.
DTR VMS (Vibration Management Systems) is a motor vehicle parts and accessories business employing 187 staff, currently based on the Bumpers Farm Industrial Estate in Chippenham. The company designs and manufactures technical products to address noise, vibration and improve vehicle comfort.
**Notes to editors:
1. **The Regional Growth Fund (RGF) is a £2.4bn fund operating across England from 2011 to 2015. It supports projects and programmes that lever private sector investment to create economic growth and sustainable employment. It aims particularly to help those areas and communities which were dependent on the public sector to make the transition to sustainable private sector-led growth and prosperity.
More information on the Regional Growth Fund can be found here: http://www.bis.gov.uk/rgf

For more information about DTR VMS please contact Mike Franklin 01249 667 069.

The Government's economic policy objective is to achieve 'strong, sustainable and balanced growth that is more evenly shared across the country and between industries.' It set four ambitions in the 'Plan for Growth' (PDF 1.7MB), published at Budget 2011:
To create the most competitive tax system in the G20
To make the UK the best place in Europe to start, finance and grow a business
To encourage investment and exports as a route to a more balanced economy
To create a more educated workforce that is the most flexible in Europe.
Work is underway across Government to achieve these ambitions, including progress on more than 250 measures as part of the Growth Review. Developing an Industrial Strategy gives new impetus to this work by providing businesses, investors and the public with more clarity about the long-term direction in which the Government wants the economy to travel.
BIS's online newsroom contains the latest press notices, speeches, as well as video and images for download. It also features an up to date list of BIS press office contacts. See http://www.bis.gov.uk/newsroom for more information.
Notes to Editors
Contact Information
Name BIS Press Office Job Title
Division Department for Business, Innovation & Skills Phone
Fax
Mobile
Email bispress.releases@bis.gsi.gov.uk
Name Aidan Steer Job Title
Division Department for Business, Innovation and Skills Phone 020 7215 5245 Fax
Mobile
Published 19 July 2012