£3m package for women's community projects
Work to address women's offending can continue at 26 community projects thanks to a one off £3.2m funding deal.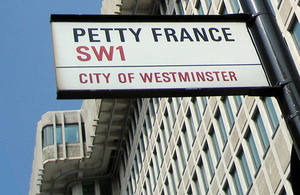 Local projects to turn women away from crime and help them address their problems have been up and running for two years after receiving an initial grant from the Ministry of Justice. Following the additional funding announced today these projects will now work to establish funding through local partnerships.
This funding will mean women's community services can continue to deliver approved programmes including drug and alcohol treatment whilst working in collaboration with probation, police and other agencies.
Minister for Prisons and Probation, Crispin Blunt, said:
'I am delighted to see an example of local communities playing a fundamental role in criminal justice. This one-off funding package from National Offender Management Service (NOMS and the Corston Coalition will keep the doors to these centres open for 2011/12. However, it has always been the aim to embed the projects locally and going forward this will be a key focus for each centre.'
In 2012/13, it is a NOMS commitment to continue funding projects with a proven track record of tackling offending behaviour amongst women.
As part of the 2007 Corston Review, Baroness Corston made clear that women who do not pose a risk to the public, must be diverted from custody. Since then, considerable work has been done to rehabilitate women through intensive community punishment coupled with support and these projects are the driving force behind this work.
Peter Kilgarriff, Chief Executive of the LankellyChase Foundation, representing the Corston Coalition, said:
'The Corston Coalition is delighted to be working with the Ministry of Justice to ensure that women's community services remain an integral part of the criminal justice system. We are particularly pleased that NOMS have committed to commission effective services into the future from 2012. We look forward to more women getting a chance to change their lives and stop offending.'
The Ministry of Justice will shortly be publishing our response to the Green Paper consultation, Breaking the Cycle, which sets out our plan to overhaul the way offenders are punished and rehabilitated.
Notes to editors
For more information please contact the Ministry of Justice press office on 020 3334 3536.
For more information about the Corston Coalition please contact Antonia Bance on 07791 792 197.
The list of Women's Community Projects to receive funding for services is below in Annex A.
The Corston Independent Funders' Coalition is an alliance of 22 charitable trusts, foundations and philanthropists. For a list of those 12 members involved in this funding initiative, please see Annex B below.
From the start of the 2012/13 financial year NOMS will continue funding community projects that provide approved services and demonstrate evidence of reducing women's offending behaviour.
The contribution from CIFC is one-off funding.
Annex A
List of Women's Community Projects to receive NOMS/CIFC funding:
Anawim, Birmingham
Evolve, WomenCentre Ltd, Calderdale & Kirklees
Together Women Project, Leeds & Bradford
Together Women Project, Hull
Escape, Northumberland
WoW, The Cyrenians, Newcastle
Chepstow House, Brighter Futures, Stoke
Asha Women's Centre, Worcester
Women Ahead, Jagonari Women's Resource Centre, Tower Hamlets
Minerva, Advance Advocacy, Hammersmith & Fulham
women@thewell, Kings Cross
ISIS Women's Centre, The Nelson Trust, Gloucester
Chrysalis, Platform 51, Truro
Inspire, Brighton Women's Centre
Alana House, Reading
Just Women, Turning Point Women's Centre, Leicester
Women's Work, Derby
Dawn Project, Peterborough & Cambridge Women's Centres
Blackpool Women's Centre
Together Women, Salford Foundation
Eve's Space, Urban Outreach, Bolton
Women Matta, Women in Prison and Pankhurst Centre, Manchester
The Cambridge Centre, Scarborough
Missing Link, Bristol
4women, Stonham, Norwich
PROMISe, Stonham, Plymouth
Annex B
Corston Independent Funders' Coalition - list of funders contributing:
The Pilgrim Trust
Northern Rock Foundation
The City Bridge Trust
J. Paul Getty Jr. Trust
Guildford Academic Associates
LankellyChase Foundation
Paul Hamlyn Foundation
Barrow Cadbury Trust
The Diana, Princess of Wales Memorial Fund
Wates Foundation
Saint Sarkis Charity Trust
The Monument Trust
Published 11 May 2011