Press release
3km of Old Bedford River being desilted
The Environment Agency is removing accumulated silts and sediments from Old Bedford River at Salter's Lode, Norfolk to reduce flood risk.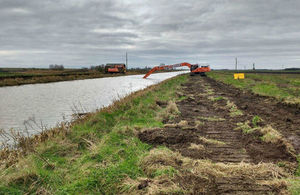 Long reach excavators are being used from both sides of the river to dig out the material which is then placed on the river bank to dry and used to reprofile the bank after the work is completed. 20m of steel sheet piling has also been installed in the crest of the embankment near Lakes Farm Pumping Station to repair a leak in the bank.
Old Bedford River is 30km long and forms part of the Ouse Washes system, an important storage reservoir for flood waters from the Great Ouse river catchment.
The Environment Agency maintains the Ouse Washes system yearly, which typically includes grass cutting, in-channel weed control, vegetation management, desilting and maintenance of structures.
This year, along with other maintenance activities, the Environment Agency is undertaking the desilting work near Downham Market. It is particularly important in the Old Bedford River to improve the channel gradient to ensure the river can flow as effectively as possible through the Old Bedford Sluice into the tidal Great Ouse River.
John Faulkner of the Environment Agency said:
The desilting works are progressing well on the Old Bedford River. We have already completed around 800m of the 3km and are expecting to complete the rest by mid March at a total cost of £80k.
The work is being undertaken in an environmentally sensitive manner to ensure the important habitat along the river's edge remains undisturbed.
Published 18 February 2016