News story
350 EARTH climate art project
24 November 2010 Thom Yorke, lead-singer of the band Radiohead, added his voice today to the growing chorus of artists supporting this coming…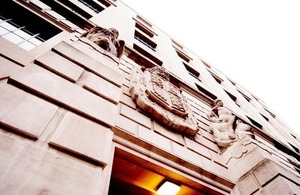 24 November 2010
Thom Yorke, lead-singer of the band Radiohead, added his voice today to the growing chorus of artists supporting this coming week's first-ever planetary art show: 350 EARTH.
In the week leading up to the UN Climate Meetings in Cancun, artists are working with citizens in more than a dozen locations to create massive, climate-themed public art installations that will be photographed by satellites traveling 17,000 m.p.h nearly 400 miles above the surface of the planet.
The initiative is being coordinated by the international climate campaign 350.org.
Yorke explained on the Radiohead website, "the plan is to make images visible from the skies to remind those in Cancun that we're running out of time. We can't keep putting this off."
As part of the project, Yorke is working with 350.org to gather thousands of people on the coastline in Brighton on Saturday, 27 November 27, to form an enormous picture of King Canute, a Norse ruler who futilely tried to control the ocean.
The Brighton event is one of a range of public art pieces planned across the world. 350.org will be unveiling the images throughout the week of November 20-27 on the 350 EARTH website and over social media. Hi-resolution satellite photos and aerial images of each art project will also be displayed at the UN Climate Talks in Cancun.
Environmental author and 350.org founder Bill McKibben said, "art can convey in a different way than science the threat that climate change poses to our planet. The world's best scientists have tried to wake up politicians to the climate crisis; now we're counting on artists to help."
Published 24 November 2010