35% of schools less than good in East Riding of Yorkshire
Ofsted inspectors have begun a week of inspections in East Riding to find out why the district has so many under-performing schools.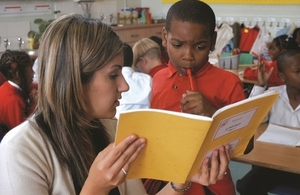 Around 15 focused school inspections will be taking place in this district as a result of Ofsted's findings that the proportion of children attending a good or better school is currently well below the national average.
The exercise marks a concerted programme of action by Ofsted to establish why children in some parts of the country have a much lower chance of attending a good or better school compared to areas with a similar demographic.
At the same time Ofsted will also conduct a telephone survey of a number of East Riding's schools, which are not being inspected.
Nick Hudson, Regional Director for the North East, Yorkshire and Humber said:
Every parent wants their child to go to a good or better school. The profile of Ofsted judgements for schools in the East Riding of Yorkshire is disappointing. It shows 35% of schools are less than good, which is more than the average for England (23%), the Region (24%), and all 10 of its Local Authority demographic equivalents.

It cannot be right that local authorities with the same demographics in terms of population size and levels of deprivation have such varying levels of provision in schools. All parents should have the same chance of sending their children to a good or better school but in East Riding the chance of being able to do so is much lower than in other parts of the country.

That is why we are carrying out focused school inspections in East Riding and other under-performing areas looking both at the schools' performance but also the support they receive from their local authority.
East Riding's demographic equivalents are:
North Yorkshire – 22% schools less than good
Cheshire East – 14% schools less than good
Cheshire West and Chester – 18% schools less than good
Warrington – 25% schools less than good
Derbyshire – 25% schools less than good
Leicestershire – 16% schools less than good
Nottinghamshire – 20% schools less than good
Staffordshire – 28% schools less than good
Warwickshire – 26% schools less than good
Worcestershire – 19% schools less than good
Media enquiries
Clive House
70 Petty France
London
SW1H 9EX
Published 14 May 2013