News story
32 sites bid to host the Green Investment Bank
The process for finalising the location of the GIB was announced last month with interested parties invited to self-assess against a common …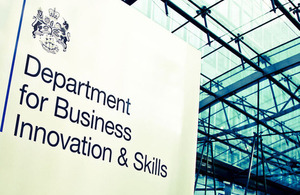 The process for finalising the location of the GIB was announced last month with interested parties invited to self-assess against a common set of criteria, to demonstrate whether they would be an effective base for the GIB.
Business Secretary Vince Cable said:
"I am delighted that the Green Investment Bank has fired the imagination of so many public and private sector groups keen to host this world-first institution. They all have a role to play in helping the UK seize the benefits of a transition to a low carbon economy."
The Green Investment Bank will play a key role in the Government's move towards a green economy, complementing other green policies aimed at encouraging private sector investment into green infrastructure.
All the submissions will now be reviewed against the criteria by a review panel. Advice will then be put to Vince Cable who will announce his final decision next month.
Notes to editors:
The locations that put in a bid to host the Green Investment Bank (GIB) are:
Bicester
Birmingham
Brighton
Bristol
Cardiff
Chester
Cornwall
Coventry and Warwickshire
Derby
Durham
Edinburgh
Gloucester
Hull
Ipswich
Leeds
Leicester
Liverpool
London
Manchester
Milton Keynes
Newcastle
Norwich
Nottingham
Peterborough
Renfrewshire
Sheffield
Southampton
Stoke-on-Trent
Sunderland
Tees Valley
Torbay
Warrington
The GIB is designed to accelerate private sector investment in the UK's transition to a green economy. Offshore wind power generation, commercial and industrial waste processing and recycling, energy from waste generation, non-domestic energy efficiency and support for the Green Deal will be the first priority sectors for the Bank, subject to approval by the European Commission.

The criteria for deciding on a location say that it should:
be able to recruit and retain the specialist staff needed to run the organisation;

enable the GIB to work closely with other parties involved in deals as well as other investment bodies, project developers and green technology providers, and;

ensure that the GIB is cost effective.
The review panel that will consider the submissions comprises officials from the BIS GIB policy team in consultation with Odgers Berndtson (on recruitment issues) and the Government Property Unit (on property issues).

For more information on the GIB, go to www.bis.gov.uk/greeninvestmentbank.

The Government is committed to setting the UK firmly on course towards a green and growing economy. The transition to a green economy presents significant growth opportunities for UK-based businesses, both at home and abroad. This progression requires unprecedented investment in key green sectors. An estimated investment of up to £200 billion in the energy system alone is needed over the period to 2020. To this end, good progress is being made towards establishment of the GIB, which will be a key component of the transition to a green economy. The GIB will be uniquely placed to facilitate the transition to a green economy base by addressing the market failures affecting green infrastructure projects. These failures can lead to significant under investment in the key areas required to deliver this transition. Capitalised with £3 billion, the GIB will complement other green policies to help accelerate additional capital in green infrastructure.

The Government has also announced that it will invest as UK Green Investments (UKGI) in green infrastructure projects from April 2012, ahead of obtaining state aid approval for the Green Investment Bank. Non-domestic energy efficiency will be one of the priority sectors for UKGI, which will make available up to £100 million in the next financial year for commercial and industrial energy efficiency projects.

BIS's online newsroom contains the latest press notices, speeches, as well as video and images for download. It also features an up to date list of BIS press office contacts. See [http://www.bis.gov.uk/newsroom](http://www.bis.gov.uk/newsroom) for more information.
Notes to Editors
Contact Information
Name BIS Press Office Job Title
Division COI Phone
Fax
Mobile
Email NDS.BIS@coi.gsi.gov.uk
Name Rebecca Murrell Job Title
Division Department for Business, Innovation and Skills Phone 020 7215 6403 Fax
Mobile
Published 31 January 2012