News story
£32 million of investments announced for helicopter production, research and development
The Business Secretary made the announcement during a visit to AgustaWestland's Yeovil facility where design and development is taking place…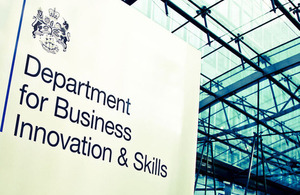 The Business Secretary made the announcement during a visit to AgustaWestland's Yeovil facility where design and development is taking place for the new AW169 light intermediate commercial helicopter. The new aircraft is a diversification for the Yeovil plant as this has previously focused on military aircraft.
The investment includes a £22 million loan on market terms in order to assist production of the AW169. Separately, a total of £10 million in R&D grants have been delivered through the Technology Strategy Board Scheme. These grants are aimed at boosting research and development in advanced rotorcraft, benefiting small and medium sized enterprises in the supply chain and universities which train the next generation of engineers and technicians.
Business Secretary Vince Cable said:
"Britain has a long and accomplished history of aircraft production and I'm pleased that today's announcement has opened the next chapter in that history.
"By bringing design, development and part of the production of the AW169 to Yeovil, AgustaWestland are making a huge vote of confidence in the expertise of Britain's engineers and the supply chain that already supports their operations here.
"This investment shows how important advanced manufacturing is to our economy and will make sure that the next generation of engineers benefit from having a world class research, design and development capability right here in the South West."
---
Notes to editors:
As part of the visit, the Business Secretary saw the first UK order for the new AW169 signed by Warwickshire and Northamptonshire Air Ambulance.
The Aerospace Growth Partnership, which includes representatives from across the sector, is currently examining how to boost exports and expand the number of highly skilled jobs available in the UK. The £1.4 billion Regional Growth Fund and Local Enterprise Partnerships are boosting private sector expansion in places like Yeovil. And investment in Technology Innovation Centres are helping UK business to be the first to market with the best products in aerospace and other growth sectors.
The AW169 is an all-new civil commercial helicopter, the first in its class for over 20 years.
The three TSB grants are for separate projects. AW Yeovil along withits partners in academia and the supply chain will work together to develop new technologies in helicopter blades, transmission systems, avionics and flight trials.
During the visit, the Business Secretary also highlighted that the manufacturing theme of the Red Tape Challenge was launched today at www.redtapechallenge.cabinetoffice.gov.uk. The latest theme is asking those in the manufacturing industry for their views on regulations in order to reduce the burden of regulation on their business.
The **Technology Strategy Board **is a business-led government body which works to create economic growth by ensuring that the UK is a global leader in innovation. Sponsored by the Department for Business, Innovation and Skills (BIS), the Technology Strategy Board brings together business, research and the public sector, supporting and accelerating the development of innovative products and services to meet market needs, tackle major societal challenges and help build the future economy. For more information please visit: Technology Strategy Board website.
BIS's online newsroom contains the latest press notices, speeches, as well as video and images for download. It also features an up to date list of BIS press office contacts. See [http://www.bis.gov.uk/newsroom](http://www.bis.gov.uk/newsroom) for more information.** **
Notes to Editors
Contact Information
Name BIS Press Office Job Title
Division COI Phone
Fax
Mobile
Email NDS.BIS@coi.gsi.gov.uk
Name Nick Evans Job Title
Division Department for Business, Innovation and Skills Phone 020 7215 3496 Fax
Mobile
Published 21 July 2011