30th anniversary of Falklands liberation marked
Service personnel from all three Services are today commemorating 30 years since the liberation of the Falkland Islands.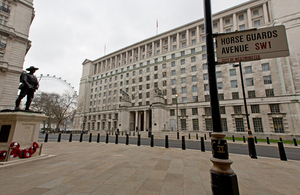 Services of remembrance for the 255 British military personnel who lost their lives in the brief but bloody conflict in 1982, as well as for the survivors, are taking place in the UK and in the South Atlantic.
They include the South Atlantic Medal Association (SAMA) 30th Anniversary Falklands Service in Swansea this morning, which was attended by Royal Navy personnel.
In Colchester, a Drumhead Service of remembrance took place today at Hollytrees Museum Gardens in Castle Park.
In the Falklands, a service of Thanksgiving will take place at Christ Church Cathedral in the capital city Stanley, after which a ceremony will be carried out at the Liberation Monument ceremony. Personnel from all three Services will take part in a parade to the 1982 monument.
A flypast is scheduled to happen and a public reception at the Falkland Islands Defence Force Hall, will conclude the commemoration there.
Speaking about the anniversary, Brigadier Aldridge, Commander British Forces South Atlantic Islands, said:
The tremendous achievement of 30 years ago is now part of the fabric of these islands.

Only by walking the battlefields, physically understanding the terrain and the harshness of the weather, and speaking to the Falkland Islands people can we start to gain a comprehension of the difficulties that were faced and the enormity of what was achieved.

This engenders nothing but the greatest of respect for all those involved in Op CORPORATE [Falklands conflict] and serves as a timely reminder for all currently serving here about the realities of war.
Commemoration services began last weekend and will run through to this coming Sunday, 17 June.
Veteran and serving Royal Marines staged a reunion and memorial parade at 42 Commando's base in Bickleigh on Saturday to mark the anniversary. The event included a parade of veterans of the conflict and a memorial service to those who did not return home. A service was held and wreaths laid at the unit's memorial.
On 17 June 2012, an annual service of Thanksgiving and Remembrance will take place at Falkland Islands Memorial Chapel in Berkshire. A drumhead service of Remembrance at the Falkland Islands Plot in the Aldershot Military Cemetery will also take place on 17 June, as well as a march, salute and flypast.
Following Argentina's invasion of the Falkland Islands on 2 April 1982, a British task force was deployed to retake the islands. Troops landed in the San Carlos Water on East Falkland on 21 May and played a key role in fighting during the advance across the island, culminating in the surrender of Argentine forces in the capital Port Stanley on 14 June.