News story
£30m to improve the lives of vulnerable young people
Justice Minister Jeremy Wright has welcomed a new £30m fund to improve the prospects of up to 20,000 vulnerable young people launched by Deputy Prime Minister Nick Clegg today.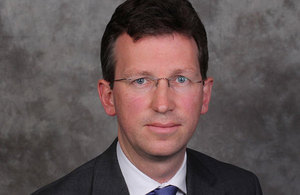 The Ministry of Justice will be contributing over a million pounds to a new initiative which will help disadvantaged young people improve their prospects and prevent them from falling into a situation where they are not in education, employment or training (NEET).
Details of the fund were announced by the Deputy Prime Minister this morning.
Justice Minister Jeremy Wright said:
I welcome this innovative approach which will help ensure good quality education and employment opportunities for young people from disadvantaged backgrounds, and help in keeping them away from the criminal justice system in the first place.

More than 85% of young men in Young Offender Institutions have been excluded from school at some point, and over half of 15-17 year olds in YOIs have the literacy or numeracy level expected of a 7-11 year old. This is unacceptable, and we need to do all we can to change this. This is why we have placed education and training at the heart of our reforms to the youth justice system.
Published 30 April 2014