News story
30 hours education a week for young offenders
The government is tackling the root cause of youth crime with an unprecedented package of education and training for young offenders, Justice Minister Andrew Selous announced today.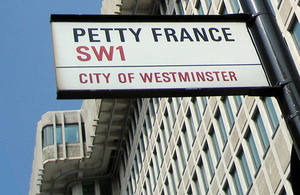 New and improved education contracts for under-18s in 4 young offender institutions (YOIs) awarded today will double the amount of hours young people spend in classes.
The contracts will provide the same high quality of education as mainstream schools and colleges, including classroom teaching and vocational education with routes into apprenticeships. Maths, English and computing will all be taught along with tailored learning packages, physical education and work experience.
Justice Minister Andrew Selous said:
Young offenders present some of the biggest challenges in our society. Their time in custody can be one of the only opportunities we have to turn their lives around and prevent them reoffending.

High-quality education and training in the youth estate is absolutely vital, which is why we are reforming the culture of YOIs to put learning at the centre and doubling the amount of time young offenders spend in the classroom.

These new contracts will help drive up standards across the youth estate and give young people the right skills and training to lead productive lives, free from crime.
The YOI regime will also be transformed to better reflect a typical school day with tailored lessons for young people that do not attend class. Other non-education activities will be scheduled around learning to avoid disruption, as happens for young people in the community.
Currently 68% of young people released from custody reoffend within a year. The contracts are part of the government's ambitious plans to put education at the heart of youth custody, helping young people get the skills and training they need to lead lives free from crime and become productive, hardworking members of society.
The contracts will have a combined value of £12 million a year and be managed directly by the Youth Justice Board (YJB) to ensure that education is integrated with the delivery of other services in YOIs. They will commence from March 2015 in the following YOIs:
Cookham Wood, The Manchester College
Werrington, The Manchester College
Wetherby, The Manchester College
Feltham, Prospects
The Transforming Youth Custody (TYC) Programme is also introducing Secure Colleges, a move away from the traditional youth custodial environment of bars on windows. These will provide an all-round package of education, vocational training, healthcare and support, drawing on the expertise of the private and voluntary sectors to deliver the very best outcomes for these young people. Legislation on Secure Colleges is included in the Criminal Justice and Courts Bill, which is currently going through Parliament and the first Secure College will open in Leicestershire in 2017.
Resettlement for young offenders leaving custody is also being improved to ensure they return to suitable accommodation, with more going into education, training or employment and fewer going on to reoffend. The Turn Around to Work Initiative is working with local and national employers in London and Greater Manchester to provide young people leaving custody with work placement and training opportunities.
Also as part of the TYC Programme, partners from the custodial estate, youth-offending teams and local authorities are coming together to help resettle young offenders back into the community and tackle any barriers they may face, such as finding accommodation, building relationships with their families or getting support for drug or alcohol problems.
Published 15 December 2014