Press release
£3 million to fund child sexual exploitation outreach service in Rotherham
Children and young people in South Yorkshire who have been or who are at risk of being sexually exploited will receive more support thanks to a new £3.1 million injection of funding.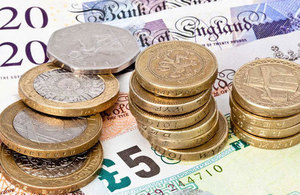 The funding from the KPMG Foundation, the Department for Education, the Department for Communities and Local Government and Rotherham Borough Council will secure work for the next three years.
The children's charity Barnardo's, which has been working in Rotherham since September 2013, will employ a team of 15 specialist workers to help those who have been sexually exploited to rebuild their lives and support them through the criminal justice system. It is expected that the new workers will be in post from autumn 2015.
The positive outreach service will proactively look for victims of child sexual exploitation and help the council and police prevent future crimes by acting as a source of community expertise. The service will also look to raise wider awareness of how to spot the signs of sexual exploitation in the town by working closely with schools, families and local communities to deliver preventative education programmes.
Almost a year ago last August Professor Alexis Jay estimated that 1,400 children had been sexually exploited in the Rotherham between 1997 and 2013 in her independent report. And in her independent inspection of Rotherham Council published earlier this year senior civil servant Louise Casey CB highlighted the shortage of effective support for victims such as those that had previously been provided by the 'Risky Business' service in the town.
Following those reports the government put in place a team of five external commissioners to help rapidly improve the council's services and offered to provide extra support for victims. That funding has now been added to by the KPMG Foundation and the Council itself.
Secretary of State for Communities and Local Government Greg Clark said:
Victims of child sexual exploitation in Rotherham have been appallingly let down in the past. These new services, run by Barnardo's, will help victims rebuild their lives and ensure they are supported as they seek justice through the courts against the perpetrators. It will also work to ensure schools, families and the community are aware and vigilant to possible signs of sexual exploitation, so vulnerable people get the protection they deserve and have a right to expect.
Barnardo's Chief Executive Javed Khan, said:
Barnardo's has supported sexually exploited children across the UK to rebuild their shattered lives for more than 20 years. We bring all of our combined expertise and experience to deliver this specialist service in Rotherham, to help prevent this abuse from inflicting devastating damage on more young lives.

We must all become alert to spotting the signs that sexual exploitation may be taking place as a matter of urgency. It is everyone's responsibility to protect those girls and boys who are most vulnerable from ruthless predators.
Minister for Children and Families, Edward Timpson, said:
Child sexual abuse is a truly abhorrent crime. Tackling all forms of abuse and exploitation is one of the most profound responsibilities we have as a government – and our work doesn't just stop once the perpetrators have been jailed. It is our moral duty to continue to support children and young people who have suffered from such pernicious abuse, so they can go on to live a fulfilling and healthy adult life. The new money announced today will play a vital part in this, making sure the right support is available for victims as they start on the road to recovery.
Since September 2013, Barnardo's has been funding a team of six specialist child sexual exploitation workers across South Yorkshire, all paid for by charitable donations.
Barnardo's has a strong track record of over 20 years when it comes to supporting children who have been sexually exploited. The charity is the largest provider of child sexual exploitation services in the UK, with services in 47 locations. Last year Barnardo's worked with 3,175 victims or at risk children.
Notes to editors
More information on Louise Casey CB's independent inspection of Rotherham Metropolitan Borough Council and the government's decision to put in place external commissioners and a rapid improvement programme is available here.
The Home Secretary has established the Independent Inquiry into Child Sexual Abuse to examine the extent to which state and non-state institutions in England and Wales have failed in their duty to protect children.
The government has already provided an additional £10 million to the National Crime Agency for specialist teams to tackle online child sexual exploitation, and has made a further £7 million available to organisations that support victims and survivors of abuse.
The Home Office has provided a special policing grant of £1.7 million to Operation Hydrant, which coordinates handling of multiple historical child sexual abuse investigations specifically concerning institutions or persons of public prominence. The Home Office is also providing up to £1.5 million to support regional child protection coordinators and analysts to oversee the implementation of the National Plan for tackling Child Sexual Exploitation.
Barnardo's works with more than 200,000 children, young people and their families each year. Barnardo's runs more than 900 services across the UK. More information about Barnardo's work can be found here.
Barnardo's Press office: 020 8498 7555
Office address and general enquiries
2 Marsham Street
London
SW1P 4DF
Contact form http://forms.communiti...
General enquiries: please use this number if you are a member of the public 030 3444 0000