News story
£29 million for life sciences research announced at British Business Embassy
Ministers will announce substantial new funding awards to boost the UK life sciences industry, as UK and international delegates meet in London…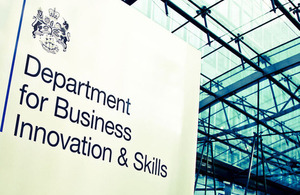 Ministers will announce substantial new funding awards to boost the UK life sciences industry, as UK and international delegates meet in London for the British Business Embassy Healthcare and Life Sciences summit.
Health Secretary Andrew Lansley and Universities and Science Minister David Willetts announced that the first awards totalling £10 million from Government's £180 million Biomedical Catalyst have been awarded to fourteen UK universities and 18 Small and Medium Enterprises (SMEs). These awards from the Medical Research Council and the Technology Strategy Board will support UK academics and businesses on the first vital step in exploring the market potential of their early-stage scientific ideas.
David Willetts also announced that the Medical Research Council and a consortium of 10 UK Government and charity research funders have invested £19 million to establish four e-health research centres in London, Manchester, Dundee and Swansea. The new centres will enable the UK to make more effective use of electronic health data - a field with huge possibilities for health care delivery and the understanding of disease.
Yesterday, Prime Minister David Cameron announced that the Olympic drug-testing laboratories, located in Harlow, will be converted into a £10 million world-class research centre. The MRC-NIHR Phenome Centre, the first of its kind in the world, will use cutting edge facilities developed for London 2012 to help develop better and more targeted treatment for patients, and will enable researchers to explore the characteristics of disease in order to develop new drugs and treatments for patients.
Health Secretary Andrew Lansley said:
"We want to create a world-class NHS that makes the latest and best treatments available to patients.
"Our investment in the new MRC-NIHR Phenome Centre, the first of its kind, promises better targeted treatments for patients with a wide range of common diseases such as diabetes, heart disease and dementia.
"It's part of the record funding made available for biomedical and clinical research through the National Institute for Health Research (NIHR), to support studies including those funded though the Biomedical Catalyst programme."
Minister for Life Sciences David Willetts said:
"The UK has one of the world's largest and most productive life science sectors. We have cutting edge industries such as biotechnology, pharmaceuticals, healthcare and medical technologies. We attract almost 10 per cent of the world's pharmaceutical R&D funding.
"The Global Business Summit on Life Sciences will introduce some of the world's most important and influential sector leaders to see what the UK have to offer.
"It will also highlight how UK innovation continues to flourish and how the industry collaborates, to produce world class services, products and individuals.
"I am delighted to be a part of this event, which positions the UK as a firm leader in the world of life sciences."
The Life Sciences Day is one of 18 global business summits being organised by UK Trade & Investment to promote UK businesses and facilitate international trade during the Olympic and Paralympic Games.
**UK-international business
**International business to be announced by firms at today's summit today includes:
Fast Track Diagnostics Research Ltd (FTD) has announced the opening of an Indian subsidiary and said that it will be expanding its research capacity in the UK by the end of this year. FTD designs and produces a wide range of assessment procedures enabling the simultaneous detection of a wide range of infections. It is anticipated that the company will contribute several hundred thousand pounds to UK export revenue each year.

Morningside Pharmaceuticals Ltd, a multi-award-winning British company dedicated to providing affordable healthcare to aid agencies, has announced a €177K (£139k) contract with Unicef to deliver the medicine Podophylloxtin Solution, used to treat sexually transmitted diseases, to Malawi. This contract brings Morningside's sales to Unicef's Supply Division over the last 12 months to more than £3 million, and further builds on the company's growth, which has been driven by export sales growth of 223% over the past six years.

Inanovate, a US-based company with expertise in protein screening to support research, drug development and clinical diagnostics, is to create a new biology post at its UK base in the West Midlands to support a recently-announced sepsis research project. Working as part of a consortium with the University of Manchester and Brighton University, supported by a Technology Strategy Board grant, the project will use Inanovate's unique screening platform to aid diagnosis of the early onset of sepsis.
300 UK and international healthcare delegates will discuss the ways in which change in healthcare can be achieved through collaboration between industry, academia and healthcare providers. The event will also focus on how translational research can be used to develop novel therapeutics and medical technologies and examine the expanding role of informatics and digital technology in healthcare delivery.
Speakers will include British Business Ambassador and eminent surgeon** **Lord Darzi; Sir David Nicholson KCB CBE, Chief Executive of the English National Health Service; Dr. Gabrielle Silver, Global Head of Neuroscience and Primary Care Marketing of GE Healthcare; and Sir Mark Walport, Director of The Wellcome Trust.
Also speaking are Dr. Gillian Leng, Deputy Chief Executive of the National Institute of Health and Clinical Excellence; Professor Peng Tee Khaw from the Moorfields Eye Hospital NHS Foundation Trust; and Professor Sir John Bell, Regius Professor of Medicine,University of Oxford.
**Notes to editors
**1. Biomedical Catalyst programme
Medical Research Council (MRC) and Technology Strategy Board have made the first funding awards under the joint £180 million Biomedical Catalyst set up with Government support. The MRC 'Confidence in Concept' awards, totalling £7.4 million, will give universities grants of between £360,000 and £750,000 to help them progress more promising research ideas towards clinical testing.
The recipients are:
University of Cambridge: £600,000
University of Dundee: £750,000
University of Edinburgh: £700,000
Imperial College London: £700,000
King's College London: £500,000
Liverpool School of Tropical Medicine: £250,000
University of Nottingham: £400,000
University of Oxford: £750,000
Queens University Belfast: £300,000
University College London: £700,000
University of Birmingham: £600,000
University of Manchester: £500,000
University of Sheffield: £360,000
University of Strathclyde: £300,000
In addition, 18 SME-led projects have been awarded a total of £2.45 million by the Technology Strategy Board, to conduct feasibility studies in areas including; drug detection from fingerprints, and the development of a novel class of antibiotics. Each project will receive a grant of up to £150k which represents 75% of their total project costs. These awards represent successful applicants in round 1. Round 2 is currently open for applications.
The programme for all British Business Embassy events is at www.ukti.gov.uk Watch all British Business Embassy sessions live http://www.youtube.com/user/UKTIWeb. Follow events live on Twitter @BritBizClub and join the conversation using hashtag #BritBizEmbassy.

The Government's economic policy objective is to achieve 'strong, sustainable and balanced growth that is more evenly shared across the country and between industries.' It set four ambitions in the 'Plan for Growth' (PDF 1.7MB), published at Budget 2011:
To create the most competitive tax system in the G20

To make the UK the best place in Europe to start, finance and grow a business

To encourage investment and exports as a route to a more balanced economy

To create a more educated workforce that is the most flexible in Europe.
Work is underway across Government to achieve these ambitions, including progress on more than 250 measures as part of the Growth Review. Developing an Industrial Strategy gives new impetus to this work by providing businesses, investors and the public with more clarity about the long-term direction in which the Government wants the economy to travel.
4 . UK Trade & Investment (UKTI) is the Government Department that helps UK-based companies succeed in the global economy. We also help overseas companies bring their high quality investment to the UK's economy - acknowledged as Europe's best place from which to succeed in global business. UKTI offers expertise and contacts through its extensive network of specialists in the UK, and in British embassies and other diplomatic offices around the world. We provide companies with the tools they require to be competitive on the world stage. For more information on UKTI, visit www.ukti.gov.uk or visit the online newsroom at www.ukti.gov.uk/media.
**Life Sciences factfile
*** The UK attracts almost 10 per cent of the world's pharmaceutical R&D funding and is acknowledged as the gateway to Europe. The UK has a globally admired regulatory regime, with two internationally-recognised product approval agencies being based here.
The UK continues to produce the highest number of science, mathematics and computing graduates annually in the EU, offering two of the world's top three universities in Life Sciences and biomedicine.

UK scientists are some of the best in the world, winning 76 Nobel prizes for their scientific achievements.

Research is an important factor: the UK Life Sciences industry spends almost £4.4 billion on R&D in the UK each year.

The UK's research is the most productive and efficient in the G8. It produces more publications and citations per researcher and per pound of public funding than any of its major competitors.

The UK is responsible for 6 per cent of world publications and has a global share of the most cited papers of 14 per cent.

The UK is rated as the best European location for bioscience, healthcare/medical and clinical research.

The National Health Service is a key pillar for UK Life Sciences; it is unique, delivering "cradle to grave" care for the UK's 62 million residents. Not only is it one of the largest purchasers of Life Sciences products in the world, spending around £20 billion a year on goods and services, but it is also a proven research partner for developing and evaluating medicines and technologies.

The Government, through the NIHR, invests £1 billion annually to equip the NHS to carry out world-leading applied health research. In addition to funding internationally recognised research programmes, the NIHR supports research facilities in the country's leading NHS hospital/university partnerships focused on pulling important biomedical discoveries into the clinic. This expertise in early-stage research is complemented by the NIHR Clinical Research Network, which supported delivery of 3,200 clinical research studies in the NHS involving over half a million patients in 2010/11.

The UK medical technology sector has over 3,100 companies generating £15 billion turnover and employing some 64,000 people, producing a diverse range of products from positron emission tomography for advanced imaging and diagnosis to surgical gowns and instruments.

The UK biotechnology sector is made up of 945 companies, which employ close to 23,000 individuals and have a combined annual turnover of £3.4 billion.

The UK pharmaceutical sector has a total of 388 sites owned by 365 companies, employing 77,795 people with a combined turnover of £31.8 billion.

Of the Top 50 global pharmaceutical companies, 37 have operations in the UK and employ 52,000 staff at 60 sites, representing 83 per cent of the total sector turnover.
Notes to Editors
Contact Information
Name BIS Press Office Job Title
Division Department for Business, Innovation & Skills Phone
Fax
Mobile
Email bispress.releases@bis.gsi.gov.uk
Name Oliver Fry Job Title
Division Department for Business, Innovation & Skills Phone 020 7215 5965 Fax
Mobile
Published 2 August 2012