News story
£28 million extension to National Composites Centre opens
UK high-tech businesses to benefit from investment in new facilities spearheading innovation in composites technologies.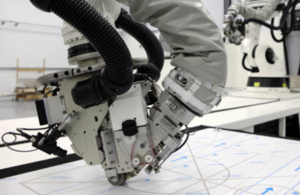 The Business Secretary, the Rt Hon Dr Vince Cable MP, has opened a £28 million extension to the National Composites Centre (NCC) near Bristol.
Funding for the new facilities was by the Department of Business, Innovation and Skills (BIS), via Innovate UK and the High Value Manufacturing Catapult.
Hosted by the University of Bristol, the NCC's industrial-scale research and technology development facilities include Europe's largest openly accessible high rate manufacturing press for composites.
After only three years, the NCC has nearly 40 members. It's worked with more than 100 companies and more than £14m of technology development work from industry will pass through it in 2014.
Flying high with winglets
Among its successes is the winglet project. GKN Aerospace is a leader in the manufacture of complex composite and metallic aerostructures including winglets (the tips of aircraft wings that curve upwards).
GKN worked with the NCC and another centre in the High Value Manufacturing Catapult, the Advanced Manufacturing Research Centre (AMRC) in Rotherham to meet the challenge of automating winglet production.
This work formed part of the wider £12m Structures Technology Maturity (STeM) Project led by GKN Aerospace which ran from April 2012 to March 2014 - supporting new concepts in wing design and pushing the boundaries of aerodynamic performance.
Doubling the size of the NCC will increase its capacity to serve the aerospace, automotive, renewable energy and rail sectors. Dr Cable met the engineers and technicians who help SMEs to develop new composites technologies and products.
Iain Gray, chief executive of Innovate UK, said:
Historically, Britain was very good at making scientific discoveries but not at turning these breakthroughs into businesses. The network of Catapult Centres across the country is fundamentally changing this and the UK's ability to drive economic growth through innovation - creating skilled jobs and a stronger economy.
Catapults provide access to world-class research and development facilities and expert staff for businesses of all sizes. The NCC is leading the way in developing composites, advanced materials which are crucial to Britain's aerospace and automotive industries. This outstanding new extension shows the rapid progress of the whole Catapult network.
Published 3 November 2014