£250 million for councils to support weekly bin collections
A new fund of up to £250million will support councils to deliver a weekly collection of household waste and improve the environment, Communities…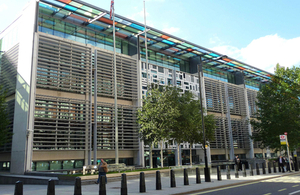 A new fund of up to £250million will support councils to deliver a weekly collection of household waste and improve the environment, Communities Secretary Eric Pickles announced today (30 September 2011).
The new Weekly Collections Support Scheme will both support weekly collections and enable councils to invest in schemes and projects that will benefit the environment including through raising recycling rates. In the coming months councils will be invited to submit innovative bids for funding.
Ministers believe more frequent collections are likely to discourage fly-tipping and littering as well as reducing problems with vermin and pests.
Mr Pickles said:
Weekly rubbish collections are the most visible of all front-line services and I believe every household in England has a basic right to have their rubbish collected every week.

Our fund will help councils deliver weekly collections and in the process make it easier for families to go green and improve the local environment.
Caroline Spelman, Secretary of State for Environment, Food and Rural Affairs, added:
Hard-pressed families across the country pay their council taxes and local authorities should be looking to deliver the kinds of frontline services that they want. This new fund will help councils whose residents want their rubbish collected more frequently to reinstate weekly bin rounds for smelly waste, while also seeking new and innovative ways to increase recycling and look after the environment.
Councils will be able to bid individually or in consortiums, and with the private sector, where that increases value for money. In order to encourage the most innovative and locally tailored solutions, authorities will be able to bid for a mix of revenue and capital funding. Further detail of how the Support Scheme will operate and how councils can bid will be set out in due course.
Notes to Editors
The Waste Review published this summer stated that 'The Government will be working with local councils to increase the frequency and quality of rubbish collections and make it easier to recycle, and to tackle measures which encourage councils specifically to cut the scope of collections. The Government understands that the public have a reasonable expectation that household waste collections services should be weekly, particularly for smelly waste' (Government Review of Waste Policy in England, p.7).
Twitter
Keep up to date with the Department by following us on Twitter (external link).
Media enquiries
Visit our newsroom contacts page for media enquiry contact details.
Published 30 September 2011