#GREATHouseBrasil abre suas portas em São Paulo
Performance do futebolista Dan Cutting, exposição dos Beatles e Connected Cities dão inìcio às atividades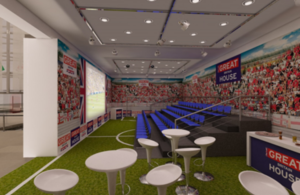 Nesta segunda-feira, 09/06, a Embaixada Britânica inaugura o espaço GREAT Britain House, no prédio do Centro Brasileiro Britânico, no bairro de Pinheiros, em São Paulo. A GREAT Britain House é uma iniciativa com cerca de 20 eventos que acontecem de junho a julho no Brasil, como parte da campanha GREAT do Reino Unido.
A abertura da GREAT Britain House será realizada pelo Embaixador do Reino Unido no Brasil, Alex Ellis. Na sequência, Dan Cutting, praticante da modalidade de futebol freestyle, vai fazer uma performance com a bola, no saguão da #GREATHouseBrasil, que será ambientado com símbolos da cultura britânica, como as tradicionais cabines telefônicas de Londres.
Até o dia 12 de julho, a GREAT Britain House em São Paulo vai contar com uma exposição gratuita sobre os Beatles, com cerca de 50 peças raras de colecionadores, como guitarras e discos autografados, fotos e artigos pessoais da banda. A casa sediará ainda a exposição "A Muse Um", também gratuita, com a exibição de obras dos artistas Ben Langlands e Nikki Bell que retratam o ambiente de grandes museus e galerias de arte. Uma mostra de filmes também faz parte da programação com a exibição de três obras inglesas, nos dias 13 e 27 de junho e 11 de julho, dos filmes The Damned United, The Arsenal Stadium Mystery e Fever Pitch, respectivamente.
No GREAT Britain House também será montada uma arena para convidados acompanharem os jogos da Copa e uma sala de negócios para promover o encontro de executivos britânicos e brasileiros durante o Mundial.
O primeiro evento de negócios na GREAT Britain House é o seminário Connected Cities, sobre planejamento urbano e o futuro da infraestrutura brasileira, que acontece também no dia 9 de junho. O objetivo do evento é discutir os desafios de mobilidade nas grandes cidades a partir da experiência britânica. No dia 10, será realizada a Conferência de Biocombustíveis – mercado sustentável e perspectivas futuras.
Além de São Paulo, o calendário da GREAT Britain House inclui atividades no Rio de Janeiro, Manaus e Belo Horizonte. Confira aqui a programação completa da #GREATHouseBrasil.
Published 7 June 2014