News story
2016 war pensions and allowance rates
The Ministry of Defence has announced the rates of pensions and allowances payable under the War Pensions Scheme from April 2016.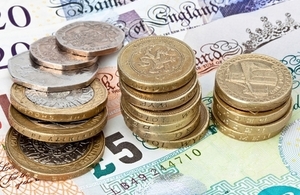 It's established practice to change these rates annually each April in line with the Consumer Prices Index (CPI) inflation figure calculated the previous September.
The CPI figure for September 2015 was negative (-0.1%) and so it's been decided that from April 2016, WPS pensions and allowances will remain the same as the 2015 rates. This approach is consistent with the rates of disability benefits paid by the Department for Work and Pensions.
There has, however, been a small increase in the level of earnings that a war pensioner can receive before certain allowances for employment difficulties are affected. This is known as the 'theraputic earnings limit' and increases to £5,590 per year from 11 April 2016.
The confirmed rates of pensions and allowances are shown below.
War Pensions Rates
| | | |
| --- | --- | --- |
|   | Rates(£) | Rates(£) |
| (Weekly rates unless otherwise shown) | 2015 | 2016 |
| War Pensions |   |   |
| Disablement Pension (100% rates) |   |   |
| officer (£ per annum) | 9,298.00 | 9,298.00 |
| other ranks (weekly amount) | 178.20 | 178.20 |
| Age allowances payable from age 65 |   |   |
| 40% to 50% | 11.95 | 11.95 |
| over 50% but not over 70% | 18.35 | 18.35 |
| over 70% but not over 90% | 26.10 | 26.10 |
| over 90% | 36.70 | 36.70 |
| Disablement gratuity (one-off payment) |   |   |
| specified minor injury (min) | 1,136.00 | 1,136.00 |
| specified minor injury (max) | 8,474.00 | 8,474.00 |
| 1 to 5% gratuity | 2,834.00 | 2,834.00 |
| 6 to 14% gratuity | 6,300.00 | 6,300.00 |
| 15 to 19% gratuity | 11,018.00 | 11,018.00 |
| Supplementary Allowances (weekly) |   |   |
| Unemployability Allowance |   |   |
| Personal | 110.10 | 110.10 |
| Adult dependency increase | 61.20 | 61.20 |
| Increase for first child | 14.20 | 14.20 |
| Increase for subsequent children | 16.75 | 16.75 |
| Invalidity Allowance |   |   |
| higher rate | 21.80 | 21.80 |
| middle rate | 14.20 | 14.20 |
| lower rate | 7.10 | 7.10 |
| Constant Attendance Allowance |   |   |
| exceptional rate | 134.40 | 134.40 |
| intermediate rate | 100.80 | 100.80 |
| full day rate | 67.20 | 67.20 |
| part-day rate | 33.60 | 33.60 |
| Comforts Allowance |   |   |
| higher rate | 28.90 | 28.90 |
| lower rate | 14.45 | 14.45 |
| Mobility supplement | 64.15 | 64.15 |
| Allowance for lowered standard of occupation (max) | 67.20 | 67.20 |
| Therapeutic Earnings Limit (annual rate) | 5,408.00 | 5,590.00 |
| Exceptionally Severe Disablement Allowance | 67.20 | 67.20 |
| Severe Disablement Occupational Allowance | 33.60 | 33.60 |
| Clothing Allowance (annual rate) | 230.00 | 230.00 |
| Education Allowance (annual rate) (max) | 120.00 | 120.00 |
| Widow(er)s Benefits |   |   |
| Widow(er)s' - other ranks (basic with children) (weekly amount) | 135.15 | 135.15 |
| Widow(er) - Officer higher rate both wars (basic with children) (£ per annum) | 7,187.00 | 7,187.00 |
| Childless widow(er)s' u-40 (other ranks) (weekly amount) | 32.37 | 32.37 |
| Widow(er) – Officer lower rate both wars (£ per annum) | 2,496.00 | 2,496.00 |
| Supplementary Pension | 90.41 | 90.41 |
| Age Allowance |   |   |
| (a) age 65 to 69 | 15.40 | 15.40 |
| (b) age 70 to 79 | 29.60 | 29.60 |
| (c) age 80 and over | 43.90 | 43.90 |
| Children's Allowance |   |   |
| Increase for first child | 21.20 | 21.20 |
| Increase for subsequent children | 23.75 | 23.75 |
| Orphan's pension |   |   |
| Increase for first child | 24.25 | 24.25 |
| Increase for subsequent children | 26.55 | 26.55 |
| Unmarried dependant living as spouse (max) | 132.80 | 132.80 |
| Rent Allowance (max) | 50.90 | 50.90 |
| Adult orphan's pension (max) | 103.85 | 103.85 |
Published 15 December 2015