World news story
2015/16 Chevening Scholarships in Hong Kong: deadline approaching
This was published under the 2010 to 2015 Conservative and Liberal Democrat coalition government
The window to applying for Chevening Scholarships, the prestigious global scholarship programme of the UK government, is closing soon.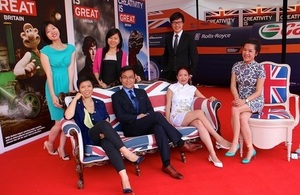 The deadline for applicants from Hong Kong Special Administrative Region and Macao Special Administrative Region will be 15 November 2014.
Chevening Scholarships are funded by the UK Foreign and Commonwealth Office (FCO) and partner organisations. The Scholarships are awarded to exceptional individuals with leadership potential to pursue one-year Master's degrees in any subject and at any of the UK's leading universities.
The British Consulate-General Hong Kong particularly welcomes applications for Master's degrees in the following fields:
business, finance and economics
government and public service
judiciary, human rights and constitutional reform
legal services and the judiciary
environment, low carbon and energy security
science, engineering and technology
A full scholarship will cover the cost of a UK visa, a return air ticket to the UK, tuition fees, a monthly stipend and allowances. The scholarships do not cover costs for dependents.
All about Chevening by Hong Kong Chevening Scholars
Key selection criteria include:
having the personal, intellectual and interpersonal qualities necessary for leadership in Hong Kong SAR or Macao SAR
be motivated to develop a career in order to establish a position of leadership in Hong Kong SAR or Macao SAR within 10 years of their Scholarship
be able to use their studies and experience in the UK to benefit themselves, Hong Kong SAR or Macao SAR and the UK
be capable of successfully undertaking and completing their proposed course
Chevening Scholarships application must be done online at the Chevening website. Candidates are advised to read the application guidance thoroughly before applying and make sure they meet the Chevening eligibility criteria.
The British Consulate-General Hong Kong will select the candidates in partnership with the Chevening Scholarship Secretariat in London and will help place successful scholars on suitable courses. Shortlisted candidates will be contacted by February/March 2015 for interview.
The British Consulate-General Hong Kong encourages all potential applicants to apply the scholarship programme well in advance of the deadline in 3 weeks.
About Chevening Scholarships
Chevening Scholarships are the UK government's global scholarship programme, funded by the FCO and partner organisations. 2013/14 is the 30th anniversary of the Chevening programme, which was established in 1983 and has developed into a prestigious international scheme. Scholars come from 150 countries worldwide and over 1,500 Scholarships will be awarded this year. There are over 43,000 Chevening alumni around the world who together comprise an influential and highly regarded global network. For further information and to apply for a Chevening Scholarship, please see the Chevening website.
Eligibility for 2015/16 Chevening Scholarships
Applicants for 2015/16 Chevening Scholarships must:
demonstrate that they have achieved a minimum English language requirement
be a citizen of Hong Kong SAR or Macao SAR and intend to return there at the end of the period of study. Applicants should hold an Hong Kong SAR, British National (Overseas) or Macao SAR passport
hold a degree that is equivalent to at least an upper second-class honours degree in the UK
have completed at least two years' work or equivalent experience before they apply for a Chevening Scholarship
Document information
Published: 24 October 2014