2015: The Year of Mexico in the UK and the UK in Mexico
The UK and Mexico are closer today than they have been for many years. More and more people are choosing to live, study, work in or visit each others' countries – or just enjoy the best that our cultures have to offer.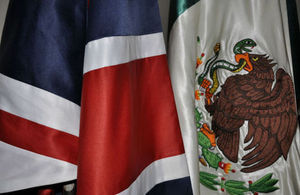 To celebrate this exciting new era in UK-Mexico relations, the two governments have agreed to designate 2015 as The Year of the UK in Mexico and The Year of Mexico in the UK. These interlinked Years will leave a legacy that brings British and Mexican societies even closer together in the years ahead.
In Mexico, we are preparing the biggest celebration of British creativity in arts, culture, innovation and business ever to take place in Mexico.
We want to:
share the very best of British arts and creative economy; education, science and innovation; and business;

help British businesses forge new partnerships and promote trade between the UK and Mexico;

build a legacy that will continue to deepen the relationship between the UK and Mexico through scholarships, research and education exchanges.
The British Embassy and British Council are working hand in hand on plans for 2015, in partnership with a range of British institutions and Mexican government agencies.
This special Year is being designed to reach diverse audiences across Mexico, including in key business centres outside Mexico City. The programme will include approximately 50 events in 13 towns and cities including at the main Mexican cultural festivals of the year – Cervantino, Guadalajara Book Festival, Morelia Film Festival – as well as unforgettable British moments at The Queen's Birthday Party, the Feria de las Culturas Amigas.
The Year of the UK in Mexico will display the quality, diversity, breadth and innovation of Britain through exhibitions, concerts, performances, talks, workshops, residencies, collaborative projects, exchanges and competitions in the arts, education, science and entrepreneurship. In the UK, the Mexican government is preparing a parallel programme of events that will light up cities across the country and introduce British audiences to the amazing energy and talent that modern Mexico has to offer.
Published 20 November 2013