World news story
2015: Ambassador's New Year Message
Watch our video message from Tim Hitchens, British Ambassador to Japan, as we look ahead to a prosperous 2015.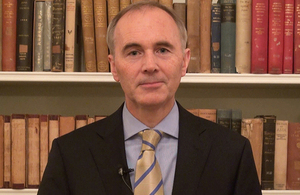 Tim Hitchens, British Ambassador to Japan, has released a new year message, reflecting on 2014; looking ahead to 2015; and wishing friends in Japan and around the world a happy new year from all at the British Embassy Tokyo and British Consulate-General Osaka:
Thank you to all of you who have supported our Food is GREAT campaign in 2014, which has brought together efforts to promote the diversity of modern British food and drink and seen thousands of Japanese consumers purchasing British products as part of our Shopping is GREAT campaign and eikoku shopping week, will continue to be a centrepiece of our work in Japan.
2015 is the Year of the Sheep. Those born in the year are reputed to be exceptionally creative. So this year we will be looking at Japan and Britain partnering for Innovation
Early 2015 will also see the Duke of Cambridge visit Japan. His Royal Highness will launch a year-long innovation campaign to showcase UK strengths and highlight the potential for innovation partnerships between the UK and Japan, whether business, research bodies, students or policy-makers.
Meanwhile, England and Wales look forward to hosting the Rugby World Cup in 2015 before Japan hosts in 2019, integrating with an active programme of lesson-sharing from London 2012 ahead of Tokyo 2020.
Other planned events for 2015 include those held in the UK, Japan and around the world to mark the 70th anniversary of the end of the Second World War.
Watch the video below to see Tim Hitchens' full new year message.
Published 22 December 2014