World news story
2014/15 Chevening Scholarships: Applications Now Open in Belize
Applications for 2014-2015 Chevening Scholarships in Belize are now open and will close on 8 November 2013.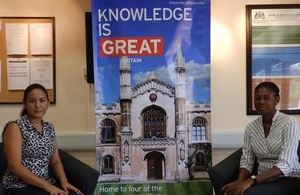 The Scholarships not only offer financial support to study for a Master's degree at the UK's leading universities, but the opportunity to become part of an influential and highly regarded global network.
We aim to attract talented professionals who are potential future leaders, decision-makers and opinion formers. We accept applications from a wide range of subject areas, however, we particularly welcome applications in the following fields:
*Climate Change
*Human Rights
*Police and Criminal Justice Sector Reform
*Prosperity
Last year, two Chevening Scholars from Belize studied in the UK. Javier Bosch studied for an MSc in Financial Mathematics at the Cass Business School at City University London. Antonio Miguel Hegar studied for an MSc in Public Health at the London School of Hygiene and Topical Medicine.
A Chevening Scholarship in Belize includes: a monthly stipend, travel to and from your country via an approved route, an arrival and excess baggage allowance, a thesis or dissertation grant, the cost of an entry clearance visa and tuition fees to a limit of £12,000. If the tuition fees of your chosen course exceed this amount, please note that you may be required to supplement the balance of your award. Tuition fee payments for Master's in Business Administration (MBA) courses have an upper limit of £12,000 in all countries. If you study for an MBA you will be expected to fund any difference above this sum.
Do you have the potential to be a future leader and a desire to study in the UK? If you would like to enhance your leadership skills and become part of the growing Chevening network, read about how to apply for a Chevening Scholarship in Belize.
Published 3 October 2013