2012 Olympic and Paralympic Celebrations come to Cardiff
Plans to include Cardiff in the 2012 celebrations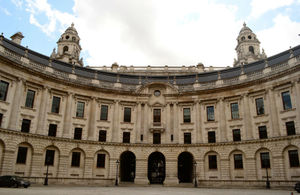 Plans to include Cardiff - already host city for the Olympic football competition at the Millennium Stadium - in the 2012 celebrations have been revealed today.
Games organisers have today submitted a planning application for the temporary installation of large display scale Olympic Rings, followed by the symbol for the Paralympics, the Paralympic Agitos, next year outside Cardiff City Hall.
The Olympics and Paralympics are the first and second biggest sporting events in the world. Their symbols represent the values of the Olympic and Paralympic movements. The installations are being funded by the Government, and the proposed location on City Hall has been chosen in discussion with local partners. 
Details of the planning application will be made available for public view at City Hall shortly. The project will feature initially the Olympic Rings followed by the Paralympic Agitos and will be positioned within the fountain outside the iconic City Hall in Cardiff City Centre. The Rings and Agitos will be illuminated to highlight these spectacular symbols at night time and could be a focal point for Games time celebrations in the capital.
The Olympic Torch will be visiting Cardiff on 25 May where there will be an evening celebration, while the Paralympic Torch will visit on the 27 August.
Press Enquiries: 020 7211 2210
Out of hours telephone pager no: 07699 751153
Public Enquiries: 020 7211 6000
Published 21 December 2011