2012: A GREAT year for Britain
The Government today revealed further details of its plans to maximise the economic potential of London 2012 and deliver long term growth.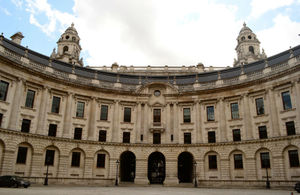 The Government today revealed further details of its plans to maximise the economic potential of London 2012 and deliver long term growth as a key part of Britain's Olympic legacy.
With the Olympic and Paralympic Games and the Diamond Jubilee all taking place in Britain this year, the GREAT campaign seizes this unique opportunity to showcase to the world all that is best about the UK as a place to visit and do business.
Tourism is a key part of the GREAT campaign, with the government aiming to deliver 4.6 million visitors over the next four years, generating tourist spending of £2.3 billion and the creation of almost 60,000 new job opportunities. Trade and Investment is another important aspect, and the GREAT campaign, alongside the Government's other Olympic Games time activity, is expected to generate over a £1 billion boost for business.
The start of 2012 sees GREAT (which focuses on areas of UK excellence including heritage, culture, countryside, sport, shopping, music, green, creativity, knowledge, entrepreneurship, technology and innovation) rolled out in markets across the globe. 
The focus is on 17 key cities, including LA, Tokyo, Beijing and Sydney, which top 2012 figures like Secretary of State Jeremy Hunt and LOCOG Chairman Lord Coe will visit to launch the campaign and promote everything the UK has to offer. 
Secretary of State for Culture, Olympics, Media and Sport Jeremy Hunt said:
2012 - with the Olympics and Queen's Diamond Jubilee - will be one of the most exciting and momentous year's in this country's magnificent history. We must not waste the once in a lifetime opportunity we have been given to showcase to the world all that is great about Britain. The GREAT campaign is rousing and inspirational. It will take our message right around the world - Britain is the place to visit, study and invest in right now.
GREAT brings together government and non-government partners in a single, coherent international campaign. 
Great British companies and organisations including the National Grid, BT, Burberry, McLaren, the Premier League, the London Stock Exchange, BAFTA, Land Rover Jaguar, British Airways, Virgin, ARM, Space NK, Laureus Foundation, Coutts, Universal Music, CBI and Mulberry will be supporting the campaign.  Other well-known companies such as Facebook UK, Google UK, EON Productions and Sony Pictures have also pledged support, with more to be announced in the weeks ahead.
Top British figures in sport, fashion, design, film and music, including Sir Paul Smith, Vivienne Westwood, Sir Richard Branson, Denise Lewis and James Bond will take part in the campaign as ambassadors for GREAT.
Exciting international launch events include:
Rio
A spectacular event in Rio, with GREAT images projected onto Sugarloaf Mountain and the showcasing of British products and suppliers, and live British music.
Delhi
The Delhi Conclave brings together the top 1000 opinion-formers in Indian business, politics, culture and sport over two days in March. The GREAT campaign, in partnership with India Today, will be at the heart of the Conclave, featuring in discussions, keynote addresses and other conference events.
Target countries are:
Brazil, China (including Hong Kong), USA, France, Germany, Japan, Australia, India, Canada.
Key cities are:
Tokyo, Hong Kong, Shanghai, Beijing, Guangzhou, Los Angeles, New York, Rio de Janeiro, Sao Paolo, New Delhi, Mumbai, Paris, Toronto, Vancouver, Berlin, Sydney, Melbourne.
Further details
The GREAT campaign will encompass online, social media, press and magazine ads, PR, TV/radio ads, outdoor and airport billboards and will link up with international events such as the Oscars and NY Fashion Week.
Creatives showcasing areas of British excellence will be used throughout the campaign, and will also be on display at locations in the UK, welcoming visitors to Britain. 
London City Airport, and airports within the BAA Group, will be the first to use the GREAT campaign to welcome visitors and returning travellers to Britain in 2012, with the welcome being rolled out to many more ports of entry into the UK in the weeks ahead.  13 UK airports will welcome over 47 million passengers to Britain in February and March alone.
GREAT images being used around the world will include: St John's College Cambridge, Stonehenge, Bluebell Woods in Llandovery, Glenfinnan Viaduct, Tate Britain, and The British Museum.
The campaign includes a TV advertisement developed by Visit Britain, inviting international tourists to visit Britain in 2012.  A version of this advert has already been used successfully in overseas markets. 
 Notes to editors
The GREAT campaign, which has been led by the Department for Culture, Media and Sport (DCMS), promotes the UK as one of the very best places to visit, study, work, invest and do business. It centres on ten key areas of British excellence: technology and innovation; entrepreneurship; creativity; knowledge; green; heritage; sport; shopping; music; and countryside.
The campaign materials will be used by DCMS, BIS, UK Trade & Investment, FCO, Visit Britain, other Government departments and third parties to help the UK speak with one voice about the opportunities to invest in the UK and help to attract millions of extra visitors.
DCMS announced on 9 June 2011 that creative communications agency Mother had been appointed to work with partners across Government to co-ordinate and develop communications activity to maximise the economic benefits of hosting the Olympics in 2012.
The Prime Minister announced the new GREAT campaign during a visit to New York on 21 September 2011.
Examples of the campaign materials can be downloaded from the DCMS flickr photostream.
Press Enquiries: 020 7211 2210
Out of hours telephone pager no: 07699 751153
Public Enquiries: 020 7211 6000
Published 6 January 2012