2010 UN Summit on the Millennium Development Goals
UK hails 'unprecedented success' at 2010 summit on MDGs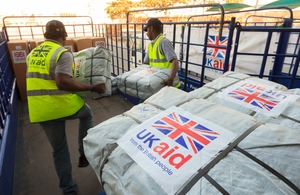 Message from His Royal Highness The Prince of Wales:
When the Millennium Development Goals were agreed in New York they gave renewed hope to the developing and developed world that, in partnership, we could build a better future for our children and grandchildren. While progress has been achieved, so much remains to be done, particularly in finding a way to value our reliance on Nature in order to sustain economic development. Protection of the environment and fighting poverty are two sides of the same coin and we face the stark choice of achieving both together or, I fear, achieving neither. The Millennium Development Goal Summit presents a vital opportunity to regain the initiative. Let us grasp it with both hands.
The 2010 UN summit on the MDGs
Secretary of State Andrew Mitchell, Sir Bob Geldof and others speak about the summit
27 September: MDG Summit outcomes: UK hails 'unprecedented success'
The UK Government has praised global commitments to save 16 million women and children, reverse the spread of malaria and tackle hunger and under-nutrition, which were made last week at the UN MDG Summit in New York.
Read our full round-up of the Summit outcomes
At the start of the new millennium, world leaders gathered at the UN to make a promise – that we would do everything within our power to halve extreme poverty by 2015.
Agreed at the Summit were the Millennium Development Goals (MDGs) – clear and measurable targets aimed at improving the lives of millions of people around the globe.
This September, ten years on, world leaders once again came together.
The UN MDG Summit is an opportunity to reinvigorate the global partnership for development and to set out clearly the actions needed to meet the goals by 2015 by both donor and recipient countries, as well as civil society and private sector partners. At this time it is vital for the international community to prove that it is serious about keeping its promises to the poor.
We've made great strides in reducing poverty but there's more to do. Aid plays an important role as a catalyst but it is only in achieving sustainable economic growth that developing countries will escape from poverty. We need to tackle the broader issues that underpin the MDGs – trade, investment, climate change, access to energy, conflict and fragility and the empowerment of women and girls – in order to make this happen.
Failing to meet the MDGs will have immense consequences. Over 8 million children will continue to die before the age of five each year. Over a third of a million women will continue to lose their lives in childbirth. 72 million children will continue to miss out on primary education. In Africa, a child will continue to die of malaria every 40 seconds.
Published 27 September 2010