Press release
2,000 violent offences committed within 12 months of release
Shocking figures showing the number of offenders who commit violence against a person, a sexual offence, burglary and theft offences in the 12 months after release from custody, have today been released by the Justice Secretary.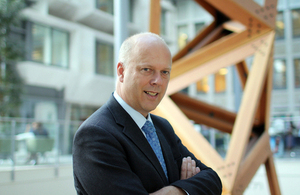 Offenders, who were released from short sentences in 2011, received little if any support under the current structure of probation services and a staggering 2,235 went on to commit a burglary, 9,172 went on to commit a theft (excluding burglaries), 1,991 committed an offence of violence against the person and 115 committed a sexual offence in the year following release.
Reforms under the Offender Rehabilitation Act will now mean this group of offenders would be subject to at least 12 months' supervision and rehabilitation in the community. Those most in need of help to turn their lives around will finally receive the support they need.
As part of the changes to rehabilitative services, a new and refocused public sector National Probation Service (NPS) will be tasked with protecting the public from the most dangerous offenders and 21 Community Rehabilitation Companies (CRCs) across England and Wales will work to rehabilitate medium and low risk offenders.
Chris Grayling said:
These figures highlight the staggering effect re-offending has on our communities, and the volume of victims suffering at the hands of career criminals. The need to reform rehabilitation is abundantly clear.

For too long we have released these prisoners back onto the streets with £46 in their pockets, and little else, in the hope they would sort themselves out — it's little wonder things haven't improved.

Through our reforms to rehabilitation, we can start to turn the tide on this problem, and create a safer society with fewer victims of crime.
Figures also released today reveal the stark reality of offences committed, in the year ending September 2013. Over 14,600 offenders had 50 or more previous convictions, three per cent of those sentenced in the period.
Chris Grayling continued:
Thousands of crimes are committed each year by those who have broken the law before. Our reforms we will see the best of the private, voluntary and community sectors working hand in hand to crack the stubborn cycle of reoffending.
A nationwide network of resettlement prisons is also being created so nearly all offenders are released into the area in which they will live and be supervised.
Providers will only be paid in full if they are successful at reducing reoffending, making hardworking tax-payers' money go further.
Notes to editors
For further information contact the MOJ press office on 0203 334 35362.

The Offender Rehabilitation Act 2014 received Royal Assent on 13 March 2014
Published 1 April 2014