£2 million boost to tackle air pollution
51 councils across England will receive funding for a range of projects designed to reduce serious levels of air pollution in our towns and cities.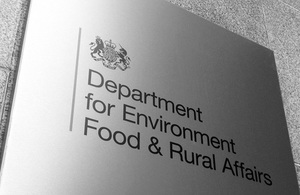 The fight against air pollution and the serious health problems it causes has been given a major boost today after an extra £2 million to help councils reduce Nitrogen Dioxide emissions was announced by Environment Minister Lord Taylor of Holbeach.
51 councils across England will receive funding for a range of projects designed to reduce serious levels of air pollution in our towns and cities. 
Environment Minister Lord Taylor of Holbeach said:
"Air pollution is a major problem which can cause serious health issues - from asthma to heart attacks - and it is vital we make every effort to reduce it and improve our nation's health.
"Traffic emissions - one of the main sources of Nitrogen Dioxide - are often at the root of this problem. Therefore local action designed to tackle local problems will be especially effective.
"The £2 million I am announcing today recognises the pivotal role that our councils play in delivering air quality improvements. I look forward to seeing how their individual projects develop."
Councils have bid for funding to support a range of projects - from looking at introducing low emission zones, which have been successful in London, to launching public information campaigns to raise awareness of air pollution.
The largest grant of £190,000 will be given to Stockport and Greater Manchester Metropolitan Borough Council to undertake research on the impact that traffic control and low emission vehicles have on Nitrogen Dioxide emissions.
Another issue being tackled by Dudley Council and the London Boroughs of Hackney and Haringey is leaving cars running when parked or stationary. Evidence shows that leaving cars idle when they could be switched off makes a significant contribution to NO2 emissions and this is something that could easily be avoided. This grant will allow these areas to highlight the problem to local residents with a view to encouraging a change in behavior.
Eligibility for the grant was limited to English local authorities with one or more Air Quality Management Areas for NO2 or those authorities where the Government's national air quality assessment in 2009 identified a high level of NO2 emissions in their area.
The Government hopes that these projects will lead to significant reductions in NO2 emissions over the next twelve months in those areas where urgent change is required.
Local Authorities who received grant funding will be required to provide Defra with a progress report by September next year to monitor the success of each project and how the money is being spent.
Notes
1. This grant scheme operates under Section 31 of the Local Government Act 2003.  
2. The criteria for the grant period 2011/12 was different from that of previous years in that it is focused on supporting projects which tackle nitrogen dioxide emissions.
3. Below is a full list of the grants that have been issued.
Lead authority Total amount awarded (£) Project(s)
Aylesbury Vale 28,000.00 Low Emission Zone/Scheme Feasibility Study
Bath & North East Somerset DC 46,500.00 Low Emission Zone Study
Birmingham (West Midlands Group) 120,000.00 Project to define emissions reduction strategies, including LEZ, LES toolkit, green procurement.
Bradford 102,000.00 LEZ feasibility study for Bradford
Bristol City Council 45,000.00 Bus NO2 emissions reduction
Canterbury City Council 14,800.00 Vehicle Emissions Monitoring Study
Cheshire East 30,000.00 Low Emission Strategy
Chichester 30,000.00 Workplace Cycle Challenge
Chiltern DC ** **20,000.00 Chiltern Air Quality Action Plan
Colchester Borough Council 14,000.00 Eco-driving initiatives - 'Love your car' campaign
Corporation of London 45,000.00 a) Cityair and b) Idling and awareness campaign
Corporation of London (joint bid - Central London Group - London Boroughs of Westminster, Kensington & Chelsea, Camden and Islington) 40,000.00 Remote sensing of NO2 exhaust emissions from road traffic
Dudley 9,900.00 Awareness Raising Campaign to reduce idling vehicles
East Hertfordshire DC 40,000.00 The effect of school traffic on air pollution
Gedling 30,000.00 Gedling ECO Stars
Horsham District Council 15,000.00 Storrington Traffic Fleet Survey & LEZ Feasibility Assessment
Ipswich (joint bid with Suffolk County Council) 12,640.00 Ipswich Transport Fit for the 21st Century - UTMC Component
Leeds City Council 50,000.00 Low Emission Zone Feasibility Study
Leicester City Council 50,000.00 Leicester Bus Emissions Study
Lewes Council 120,000.00 Sussex Low Emission Zone feasibility assessment project (2012-2013)
London Borough of Brent (joint bid) 38,000.00 TEEM: Development of a web-enabled, geo-spatial emissions model
London Borough of Camden 23,000.00 a) AQ Health Perceptions Study, and b) Euston Road NO2 monitoring
London Borough of Ealing 40,000.00 Remote sensing of actual vehicle emission in central London.  See Corporation of London
London Borough of Greenwich 20,000.00 Promoting uptake of gas vehicles through an interactive database
London Borough of Hackney 8,800.00 Idling Vehicle Project
London Borough of Haringey 7,180.00 Idling Vehicle Campaign
London Borough of Hillingdon 55,000.00 a) Heathrow Air Quality Hotspot Project, and b) Hillingdon Air Quality Hotspot Project
London Borough of Hounslow 35,000.00 Chiswick High Road - achieving air quality compliance
London Borough of Islington 17,900 airTEXT continuation project
London Borough of Lewisham 5,000.00 Vehicle Emissions Testing Day and Sustainable Transport Promotion
London Borough of Merton 4,000.00 Smarter Driving Techniques
London Borough of Sutton 10,000.00 Assessment of NO2 levels in vicinity of selected schools
Maidstone Borough Council 40,000.00 Low Emission Zone/Scheme Feasibility Study
Mid Devon DC 20,000.00 Taxi ECO Stars
Newcastle Upon Tyne (joint bid with Gateshead MBC) 60,000.00 Newcastle/Gateshead Low Emission Zone Feasibility Study
Oxford City Council 35,000.00 Propose an assessment framework/emissions tool.  Review work being implemented already (LES) - consult with partners to quantify emission reduction
Reading Borough Council 40,000.00 Low Emission Zone Impact Study
Reigate & Banstead Borough Council 53,236.00 Optimisation of traffic signal timings to minimise pollutant concentrations
Sheffield City Council (joint bid with South Yorkshire Group) 40,000.00 Sheffield City Centre Low Emission Zone Study
South Lakeland District Council 20,000.00 Kendal Behavioural Change Project
South Northamptonshire 20,000.00 Towcester Town Centre AQMA
Southampton 40,000.00 LEZ feasibility study and monitoring
St Albans DC 14,000.00 Quantitative Appraisal of AQAP measures to achieve compliance in AQMA
Stockport MBC - Greater Manchester bid 190,000.00 Impacts of traffic control and low emission vehicles on NO2 concentrations
Stoke-on-Trent 60,000.00 Victoria Road Corridor
Warrington Council 40,000.00 Low Emissions Strategy Feasibility Study
Warwick DC 20,000.00 Tender Project: feasibility of introducing LEZs within Warwick District
Waverley 21,500.00 Traffic management and Low Emission Feasibility Study
Wigan MBC (joint bid with LESP) 50, 950.00 Provide evidence to support LES approach and guidance on including LES in AQAPs
York City Council 68,500.00 a) LEZ feasibility study, and b) Fleet Recognition Scheme
Published 28 October 2011