1GOAL: Education For All campaign
More than 8 million people have signed up to make the World Cup a lasting legacy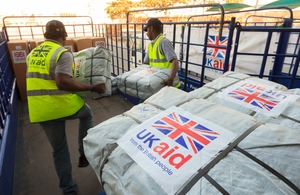 The waiting is over. For the first time ever, the FIFA World Cup is being held in Africa. It is fitting that this historic occasion is marked by an equally historic legacy - education for all.
Education is a basic human right, yet 72 million primary aged children are denied this opportunity. Education helps tackle poverty, transforms lives and supports economic growth. It encourages peace, democracy, good government and international security.
FIFA committed to make education the lasting legacy of the World Cup by supporting a international campaign called 1GOAL. Led by the Global Campaign for Education, 1GOAL is proudly supported by UKaid from the Department for International Development.
1GOAL Education for all in Ghana
A short video about 1GOAL and education in Ghana.
1GOAL Education for all in Nigeria
A short video about 1GOAL and education in Nigeria.
Video: Chris Morgan / Department for International Development
Summit for action
South African President Jacob Zuma and Sepp Blatter, President of FIFA, have announced that the 1GOAL Education Summit will take place on 11 July shortly before the World Cup final.
The summit offers world leaders the chance to draw up a roadmap to make sure that every child is in school by the next FIFA World Cup in Brazil.
More than 8 million people have already signed up to the 1GOAL campaign including Pele and Cristiano Ronaldo.
Gathering pace
In October last year, leading international figures including Queen Rania of Jordan, President Zuma of South Africa and the UN Secretary General launched the campaign at the Emirates Stadium. They were joined by many big names from the world of football including FIFA President Sepp Blatter, Gary Lineker, Sir Bobby Charlton, David James, Rio Ferdinand, Alan Shearer and Arsene Wenger.
As the civil society-led 1GOAL campaign reaches its crescendo in South Africa, governments must stand ready to respond, providing the political leadership and financial support that will be required to realise the aspirations of the campaign. Through this mobilisation of political will and action, the World Cup legacy will be realised.
"It's about reminding world leaders to play by the rules and keep their promises to children of the developing world," says Queen Rania. "I think that's worth signing up for." Do you?
Sign up here to ask world leaders to do their bit to to ensure every child can go to school.
---
Send my friend to school
Get your school involved in 1GOAL - Send My Friend to School!
Sign up now to receive a free resource pack, including a DVD, posters and stickers. More information and learning resources are available on the website. Get your schools pack at www.sendmyfriend.org
---
Published 11 June 2010