1948 Olympics and Cold War online exhibition
The Foreign Office Historians have launched their latest online exhibition, which looks at the 1948 Olympics held in London and examines how the Cold War was played out at the Games.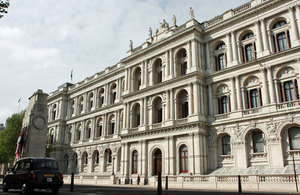 In the aftermath of the Second World War, it was hoped that the 1948 Olympics Games could be used as a starting point for renewed thinking about international relations. However, the blockade of West Berlin by the Soviet Union shortly before the Games opened triggered one of the first crises of the Cold War.
Despite the 1948 Games in London passing without political incident, the Cold War continued to be played out at future Olympics. The Soviet Union's invasion of Afghanistan in 1979 provoked a US-led boycott of the 1980 Games in Moscow, for which the USSR retaliated when the Olympics were held in Los Angeles in 1984.
With images and commentary provided by the Foreign Office Historians, this online exhibition examines the Olympic Games and the Cold War. View the 1948 Olympics and the Cold War online exhibition.
---
Published 15 May 2012