1948 Olympic track brought up to date
Sports Minister Hugh Robertson reopens renovated Herne Hill Velodrome.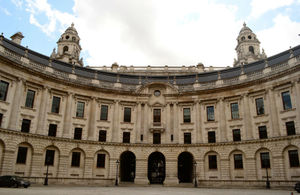 L-R Brian Cookson - British Cycling President, John Major - Chief Executive of The Dulwich Estate, Chris Boardman CBE, Tessa Jowell - MP for Dulwich and West Norwood, Hugh Robertson MP - Minister for Sports and the Olympics 
The south London velodrome - the last remaining finals venue from the 1948 Games still in active use - has been given a new lease of life, with an injection of cash from British Cycling and a bequest from a life-long track cycling fan.
The track, which has been in a state of disrepair for some time, now benefits from a state-of-the-art new surface and enhanced safety features.  The £500,000 project was funded by British Cycling through its Sport England investment and from a financial bequest left to British Cycling for use 'in the pursuit of track cycling' by London resident and life-long supporter of the Herne Hill Velodrome, Leonard Lyes. 
Training ground for champions
Herne Hill is is the track on which triple Olympic Champion Bradley Wiggins first started racing at the age of 12.  Wiggins called the redevelopment "fantastic", adding that he hoped the new track would encourage "more young people head down to Herne Hill to learn the ropes, develop their skills and, who knows, start their journey towards Olympic success."
Reopening the venue, Sports and Olympics Minister Hugh Robertson said "It is fitting that the year before London 2012, we are able to celebrate the refurbishment of the track at one of the key venues from the 1948 Games. As the popularity of cycling continues to grow, it is vital that people are provided with the facilities and opportunities to ride their bikes, be they young people starting out, serious racers, or others simply cycling to keep fit. Thanks to the new track that has been laid Herne Hill now takes its place as one of the country's leading cycling facilities."
Further information
Published 7 September 2011