£19 million road upgrade to bring new homes and jobs for Norwich
Norwich to receive major transport funding for improvements to the A47.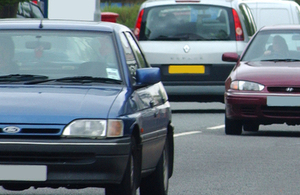 Up to £19 million of government funding will be invested in a new transport scheme in Norwich, Transport Minister Baroness Kramer announced today (3 April 2014).
The funding will help 2 business parks to grow, creating over 5,000 new jobs and allowing 600 new homes to be built.
The Department for Transport funding will be used to enlarge the junction on the A47 at Postwick, east of Norwich. The improved transport link will allow further development of the existing Broadland Business Park and development of the new Broadland Gate Business Park.
Local transport minister Baroness Kramer said:
This major road improvement is great news for Norwich, with fantastic benefits for local people including new homes and the creation of thousands of new jobs.

The £19 million we are putting into this project will greatly boost the infrastructure Norwich needs to help the local economy grow.
The Postwick park and ride site next to the junction will also be enlarged as part of the scheme to provide people with more choice of how to travel.
The main works are scheduled to start in April 2014 with completion of the scheme in November 2015. The Department for Transport will provide a maximum of £19 million towards the full scheme cost of £24.4 million.
The inspector's report on the junction's improvement is available.
News desk enquiries
Media enquiries 020 7944 3021
Out of hours media enquiries 020 7944 4292
Switchboard 0300 330 3000
Published 3 April 2014