News story
£170 million boost for UK manufacturing research
New Government funding to help ensure the UK stay at the forefront of world-class manufacturing and to drive future growth.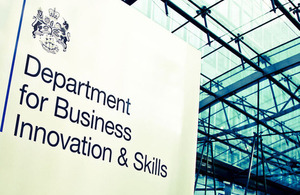 £170 million package to sharpen UK's competitive edge

Next phase in campaign to promote careers in industry
Today's announcement sees the creation of the first Technology and Innovation Centre in high value manufacturing (HVM) open for business.
Business Secretary Vince Cable announced the details of the new centre, formed from seven research facilities across the UK, which will receive more than £140 million over the next six years.
Read Vince Cable's speech at Innovate 11, on government support for UK manufacturing and the technology and Innovation Centres (TICs)
High Value Manufacturing
The HVM centre will help stimulate manufacturing in the UK, reduce the risk of innovation for new and established UK manufacturing businesses, and attract international business.
The centre will help to kick-start a sustained manufacturing revival by commercialising science - taking ideas from the drawing board to help make them into real products.
The seven regional facilities forming the centre are:
By incorporating the seven institutions, the HVM Technology and Innovation Centre will support a number of different industries including pharmaceuticals and biotechnology, food & beverages, healthcare, aerospace, automotive, energy, chemicals and electronics.
The Technology Strategy Board (TSB) will also run a competition of nearly £18 million, Technology Inspired Innovation, to fund products inspired by new discoveries and breakthroughs, such as advanced materials, biosciences and nanoscale technologies.
The TSB and the Office for Low Emission Vehicles (OLEV) will also be running a £15 million competition for investment into the research and development of low carbon vehicles.
See Inside Manufacturing
To ensure manufacturers have access to the skills they need to remain at the forefront of advanced manufacturing, the Government has launched the new initiative: See Inside Manufacturing.
This is being piloted by businesses in the automotive sector. Between 10-21 October around 100 events are being held across the UK. Companies in the sector are opening their doors to students and young people to help change the perception of careers in the sector and to attract the next generation of engineers and technicians.
To kick-off the latest stage of the campaign, Vince Cable visited the Vauxhall plant in Luton.
Business Secretary Vince Cable said:
"Manufacturing has a key role to play in economic growth and rebalancing the economy, in particular driving exports and productivity.
"The Government is supporting manufacturing through a modern industrial strategy fit for the 21st century. We are assisting manufacturing companies and their supply chains directly through the Regional Growth Fund and other schemes and supporting them to build strong businesses via our commitments to apprenticeships and fostering technology.
"We are also challenging the perceptions of what it is like to work in manufacturing and seeking to raise the status and profile of engineering.
"But we know there is always more to do. We will set out further proposals to support manufacturing over the next few weeks."
Links
Published 11 October 2011