16 Air Assault Brigade pre-deployment church service
Colchester-based elements of 16 Air Assault Brigade, due to deploy to Afghanistan in the coming weeks, have taken part in a pre-deployment church service.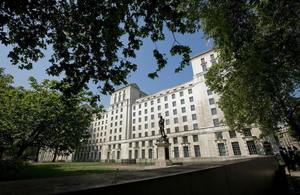 The Brigade has already started to deploy to Afghanistan and for some it will be their third tour of Helmand province.
The Brigade will deploy on Op HERRICK 13 and will take over the role of Task Force Helmand from 4th Mechanized Brigade.
Personnel from Headquarters 16 Air Assault Brigade, 216 Parachute Signal Squadron, 16 Medical Regiment and 156 Provost Company Royal Military Police took part in the church service last Thursday, 9 September 2010 - all are based within Colchester Garrison.
Music was provided by the Band of The Parachute Regiment. Other units from the Brigade will conduct their own pre-deployment church services separately.
The Reverend Andrew Totten, 16 Air Assault Brigade's Senior Chaplain, said:
After all the training and preparation this church service is a time to gather our thoughts and reflect.
It is a time to pray for those loved ones we are leaving behind at home and to seek God's strength to do what is right in the months ahead.
With 8,000 personnel, 16 Air Assault Brigade is the largest brigade in the British Army. Its structure makes it highly flexible and capable and it provides air assault infantry, parachute battalions, signals, pathfinders, attack and utility aviation, artillery, engineers, armoured reconnaissance, logistic and equipment support, and medical and provost capabilities.
In combination with offensive air support, air transport and support helicopters, the Brigade is a light, adaptable and potent force, packing a heavy punch wherever required around the world.
The Brigade has completed three tours in Afghanistan, not including the forthcoming deployment; initially in December 2001 and more recently leading the UK's deployment to Helmand in 2006, returning again in Summer 2008. When not on operations, it remains at high readiness as the UK's Airborne Task Force.
Based in Colchester, Essex, the Brigade Headquarters is formed from both Army and RAF personnel, enabling it to integrate air and land operations. 16 Air Assault Brigade is the only operational brigade in the British Army capable of delivering air manoeuvre, air assault and airborne operations.
Published 13 September 2010