Press release
£150,000 grant for third sector as they bid for rehabilitation contracts
A third sector organisation was awarded £150,000 today to help voluntary groups play a leading role in cutting crime and reducing reoffending.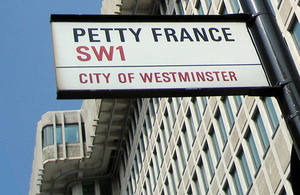 The money is part of a £500,000 pot to help Voluntary Community Sector (VCS) groups successfully bid for rehabilitation contracts to manage and reform offenders.
ACEVO will be working in partnership with the National Council for Voluntary Organisations (NCVO) and Candour Collaborations to deliver a series of workshops throughout England and Wales aimed at supporting third sector organisations so they can play a full part in turning round the lives of offenders.
The sessions will support charities and voluntary organisations to better measure their unit costs and demonstrate the impact of their work. They will also cover negotiation skills and practical aspects of contract bids.
Justice Minister Jeremy Wright said:
'The voluntary sector has a wealth of expertise and experience and a reputation for innovation - it is crucial we unlock this if we are to begin tackling our depressingly high reoffending rates.
'This funding will ensure voluntary sector organisations are given the right support so they are able to play a full role in our essential reforms.'
Sir Stephen Bubb, CEO of ACEVO said:
'I'm proud that our bid to deliver support to strengthen the sectors' role in delivering rehabilitation services has been successful. We have been closely involved in discussions on the new rehabilitation service. The Ministry of Justice has taken on board many of our ideas about working with the sector to utilise our skills and expertise in working with the hard end of offending and tackling the revolving door that sees so many released prisoners back in jail within a year.'
In January this year the Justice Secretary announced radical reforms to the rehabilitation of offenders aimed at tackling our stubbornly high reoffending rates.
Key elements of the reforms are:
Introducing a minimum 12 months supervision and rehabilitation for all offenders on release from prison.
Creating a nationwide network of 70 resettlement prisons so nearly all offenders are released into the area in which they will live and be supervised.
Creating a new public sector National Probation Service tasked with protecting the public from the most dangerous offenders.
The new approach will see providers only paid in full if they are successful at reducing reoffending, making taxpayer's money work harder.
Notes to editors:
View the consultation Transforming Rehabilitation - a revolution in the way we manage offenders.
Read a copy of the previous consultation Punishment and reform: effective probation services.
For more information contact the Ministry of Justice Press Office on 020 3334 3536.
Published 5 July 2013