150,000 children to receive help from promising teaching leaders
Extra funding to develop teaching leaders announced by Schools Minister.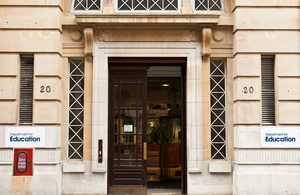 Hundreds of thousands of children in challenging schools will receive extra help from specially trained teachers after Schools Minister David Laws announced £10 million to help develop school leaders of the future.
The Department for Education money will more than double the number of so-called 'teaching leaders' working in schools - from 766 currently to 1,706 by 2015.
The scheme - called Teaching Leaders - sees teachers already working in schools defined as challenging (see notes to editors) and with the potential to become outstanding leaders, such as heads of departments, put through a rigorous 2-year training programme which develops their skills and helps them get the most from pupils.
More than 125,000 children from disadvantaged backgrounds in 365 schools have already received assistance from the specially trained teachers since Teaching Leaders began in 2008 with government funding of almost £9 million.
A 2-year study of the 118 teachers who started the programme in 2011 found the proportion of pupils achieving A* to C grades at GCSE in teaching leader-led departments rose 7% between 2011 and 2013 - from 65% to 72% (source: Teaching Leaders).
Schools Minister David Laws will announce the funding at the Teaching Leaders 2011 cohort graduation ceremony tonight (Thursday 7 November).
He said:
This programme has shown that outstanding leadership is crucial in getting the most from pupils.

Teaching Leaders has helped schools identify their most promising teachers and turn them into the outstanding head teachers of tomorrow.

This new funding will also allow them to work with schools outside our main cities ensuring that wherever a child goes to school and whatever their background they will receive the best possible education.
Teachers from the 2011 group who have completed the programme have gone on to successful careers in education.
Of those staying in education in the UK:
97% are still working in challenging schools
56% have been promoted within challenging schools
25% have been promoted to the senior leadership team
Notes to editors
Teaching Leaders is an independent education charity which addresses educational disadvantage by developing school leaders.
Set up in partnership with the National College for Teaching and Leadership, Teach First, ARK and Future Leaders in 2008, Teaching Leaders now works with around 365 schools and 776 teachers.
Teaching Leaders previously only worked with schools where more than 15% of children were on free school meals or under 40% achieved 5 or more A* to Cs at GCSE.

The eligibility criterion is now changing in line with the 'Ever 6 FSM' criteria. From 2014, these will be: * Ever 6 FSM (children who have been eligible for free school meals at any point over the last 6 years) of 50% or over * or Ever 6 FSM of 25% to 50% and fewer than 59.4% of these disadvantaged pupils achieving 5 or more A* to C GCSEs (including English and maths) * or fewer than 40% of pupils achieving 5 or more A* to C GCSEs (including English and maths)

Teaching Leaders has developed efficiency savings and economies of scale to ensure that it offers the best possible value for money: * teacher numbers: 930 new teachers (420 in 2014, 510 in 2015) for £9.9 million, the same cost as current funding for 720 teachers * reduced cost per teacher: per teacher cost to the Department for Education will decrease by 27% from £13,081 to £9,516 over the course of the contract extension
DfE enquiries
Central newsdesk - for journalists 020 7783 8300
General enquiries - for members of the public 0370 000 2288
Published 7 November 2013