News story
£150 million for businesses to build skilled workforce
The fund is the second round of the Employer Ownership Pilot (EOP) which is already giving nearly £70 million to companies including Nissan,…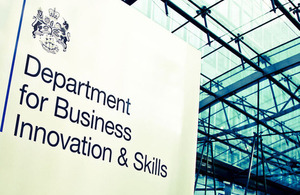 The fund is the second round of the Employer Ownership Pilot (EOP) which is already giving nearly £70 million to companies including Nissan, Whitbread and GE Aviation, with projects ranging from extending skills training to local suppliers, to doubling the number of female apprentices.
Government investment in EOP for rounds one and two now totals £250 million.
Matthew Hancock said:
"For Britain to compete we need as a nation to deliver the skills employers need. This is a unique opportunity for companies across all industries to secure their futures by addressing their skills needs now.
"I would encourage businesses - large and small - to be ambitious and innovative in their vision for how the fund can help them grow, from creating new apprenticeship programmes to setting up specialist training academies.
"I am also delighted to announce today that Channel 4 and the BBC have been successful in their joint round one bid with Creative Skillset to attract a more diverse range of young people into production and creative technology.
"The Employer Ownership Pilot is not only strengthening individual businesses. It is showing us new ways to make sure the whole of the UK economy has the skills it needs to compete in the global race."
The collaboration between Channel 4, BBC and Creative Skillset will create training, work placements, internships and apprenticeships in production and technology. These will also be extended to businesses in their supply chain, such as independent production companies.
The other 34 successful round one projects were announced in September. These included Nissan's programme to bridge the skills gap for more than 3,600 technical staff, new recruits and supply chain workers involved in producing new models and working with evolving technologies. This will be a crucial contribution to the company's launch of four new models in the next two years and to the expansion of the North East's automotive industry.
Charlie Mayfield, Chairman of the UK Commission for Employment and Skills (UKCES), which championed the vision for employer ownership, said:
"Business leaders must think strategically about their personnel - equipping workforces with the skills they know are missing, or developing those areas which have the potential to support organisational growth. If UK industries are to thrive it is essential that a labour market exists which is fit for purpose now and in the future, with talented staff amongst the best in the world.
"We know that there aren't any quick solutions to creating a highly skilled workforce, but projects such as the Employer Ownership pilot offer a unique opportunity for businesses to collaborate and create ambitious bids which can begin to address skills issues at a sector or geographic level. I would urge every business to consider how their involvement in the pilot might support them to improve the skills of our people to benefit our businesses, our economy and our society."
David Way, Chief Executive of the National Apprenticeship Service said:
"While I am delighted to see many more employers offering apprenticeships every week, we welcome this important employer-led approach. This will help to achieve our ambition to see accelerated growth and higher quality standards for apprenticeships.
"The Employer Ownership Pilot will encourage a fresh and creative approach to stimulating employers to offer more opportunities to young people. This initiative will enable even more employers to collaborate and lead to the further expansion of apprenticeships. This is vital for ensuring employers of all sizes and in vital growth sectors invest in and benefit from apprenticeships.
"We look forward to working closely with UKCES, BIS and all of our employers in developing and delivering high quality apprenticeships."
The round two prospectus is now available online at www.ukces.org.uk/employerownership and the deadline for bids is 28 February 2013.
**Notes for Editors
**1. Regional factsheets and a full list of successful round one bidders are available from the BIS press office on 0207 215 5950.
The EOP has been aligned with the Growth and Innovation Fund (GIF), which helps employers to develop innovative ways to boost the skills of their workforce. Aligning the two schemes provides a more flexible investment pot which is simpler for businesses to access. The Growth and Innovation Fund (GIF) is a co-investment fund that has already invested £27 million in business networks to support innovative skills solutions with the potential to transform growth in the sector, region or supply chain. This infrastructure funding is available alongside funding for training places, to help employers develop innovative, sustainable skills solutions which have the potential to transform growth in their sector, region or supply chain.

All bids are subject to due diligence and grant negotiation in the usual way.

The Employer Ownership Pilot is a competitive fund, launched in November 2011, and is jointly funded by the Department for Business, Innovation and Skills and the Department for Education. It routes public investment directly to employers so they can design and deliver more flexible training packages and is a competitive fund of up to £250 million in total. Round one has been a real success, committing in principle nearly £70 million over two years in grant, and matched by an expected £99 million in employer investment.

The prospectus - which can be found at www.ukces.org.uk/employerownership - set out the rationale for the scheme in more detail. The vision of greater employer ownership has been championed by the UK Commission for Employment and Skills (UKCES) - a non-departmental public body that provides strategic leadership on skills and employment issues.

The first round of the Employer Ownership Pilot created significant interest from employers and skills stakeholders with 269 applications received for the first round. All applications underwent a robust appraisal process based on the published criteria. The total portfolio of 35 supported bids is well balanced across sectors, regions and employer size. It helps support the Government's wider Industrial Strategy vision with a range of bids from the nuclear, construction and automotive sectors, amongst others.

The round two prospectus sets out the call to action and the investment criteria for the second round of the pilot. It invites employers to develop proposals in two main areas:
(i) Proposals which will enable employers to improve the skills of their current and future workforce, and
(ii) Industrial partnerships to take wider responsibility for skills development in a place or sector. Industrial Partnership bids will be ambitious proposals to set up significant and long term partnerships to take end to end responsibility for skills development in a sector or place, challenge the current mindset and advance skills development beyond the current model.
In a new development for round two, bidders will have the option to submit either a full, or an outline, bid by the deadline of 28 February. If an outline bid is successful, bidders would then be invited to take part in a further development phase, before submitting full bids.
The Government's economic policy objective is to achieve 'strong, sustainable and balanced growth that is more evenly shared across the country and between industries.' It set four ambitions in the 'Plan for Growth' (PDF 1.7MB), published at Budget 2011:
To create the most competitive tax system in the G20

To make the UK the best place in Europe to start, finance and grow a business

To encourage investment and exports as a route to a more balanced economy

To create a more educated workforce that is the most flexible in Europe.
Work is underway across Government to achieve these ambitions, including progress on more than 250 measures as part of the Growth Review. Developing an Industrial Strategy gives new impetus to this work by providing businesses, investors and the public with more clarity about the long-term direction in which the Government wants the economy to travel.
BIS's online newsroom contains the latest press notices, speeches, as well as video and images for download. It also features an up to date list of BIS press office contacts. See [http://www.bis.gov.uk/newsroom](http://www.bis.gov.uk/newsroom) for more information.
Notes to Editors
Contact Information
Name BIS Press Office Job Title
Division Department for Business, Innovation & Skills Phone
Fax
Mobile
Email bispress.releases@bis.gsi.gov.uk
Name Victoria Heath Job Title Ms Division Department for Business, Innovation & Skills Phone 020 7215 5950 Fax
Mobile
Published 20 November 2012