Press release
15 years of youth offending support in Plymouth
It's 15 years since Plymouth's multi-agency youth offending team (YOT) was established in the city.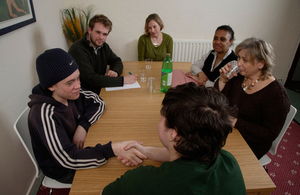 Over this time, innovative partnership work with Devon and Cornwall Police, probation, and health services has helped achieve a 50% reduction in young people coming into contact with the service for the first time.
This has been achieved through a number of community based interventions that also engage and build upon a wide network of local volunteers who act as mentors, appropriate adults and referral order panellist to support and help young people city wide.
The YOT deals with children and young people under the age of 18 through pre-court interventions, court and community/custodial sentences.
One of the key tasks for staff working in the YOT is to balance the needs of the young person with the delivery of court ordered sanctions. This is to keep the confidence of the judiciary and protect the public.
The unique and multi-agency approach of the YOT not only focuses on offending behaviour but also addresses some of the underlying factors that contribute. This explains the presence of health and other specialist workers, such as the parenting worker whom offers support to parents whose children offend.
Work with victims
Victims of youth crime are at the centre of the YOT's work. The focus of this work is to:
reduce the fear of crime
encourage offenders to accept responsibility for their actions
give them opportunities to make amends for any harm caused
Sue McDonald, Cabinet Member for Children, Young people and Public and Health said:
We are very proud of the service's history, and of its innovative and child-centred approach.

Highlighting the work of local youth offending teams reminds us all that, without the services they continue to provide in Plymouth. Some of our young people, vulnerable people and local communities as a whole, would be significantly worse off.
The YOT in Plymouth is piloting a new way of working to engage young people in the Criminal Justice System into the education, training and employment (ETE) project.
Young people are now linked with youth workers outside of their statutory involvement with the service. This is to support and prepare them to access and engage in all the different opportunities that are available.
The ETE project can provide young people of school age with one-to-one support to make sure they go to school and stay at school. This can include picking up the young people and giving them breakfast to liaising with the school to ensure they have the necessary support to attend and thrive.
For those young people who are out of school age education and not in employment the ETE team workers support young people through current issues and problems including:
filling in application forms
attending job center appointments
housing and independent living skills
This will help equip them with the skills and knowledge needed and to reduce their chances of reoffending.
On top of this ETE also work in partnership with career south west, job center plus and local colleges to enhance the young people who are sixteen plus, opportunities in gaining qualifications in a range of different settings be it vocational or hands on.
Stuart Brizell-Hogg, Youth Justice Manager , said:
This project has been instrumental in breaking down barriers for these young people who need a little extra support. We are able to act as positive role models for them in which they know they can trust and rely on. This is done through the simple task of just listening and understanding that the circumstances they come from and what they have done in the past will not be judged.
ENDS
Youth Justice Board media enquiries
Youth Justice Board press office
102 Petty France
London
SW1H 9AJ
Press office 020 3334 3536
For out-of-hours queries 07659 173 270
Published 24 March 2015