Press release
£1.5 million bridge maintenance on A14 in Suffolk
Essential bridge maintenance work, worth £1.5 million, will take place on the A14 at Hill House in Stowmarket on 8 March.
This news article was withdrawn on
This document is no longer current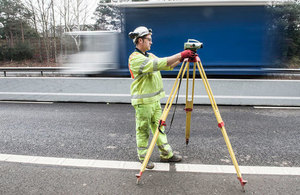 The work, which begins on Tuesday 8 March and is expected to finish in the summer, will involve replacing vital components on the bridge known as expansion joints.
Most of the work to the bridge will be carried out overnight from 8pm and 5am and a temporary 24/7 40mph speed limit will be in place for safety reasons. There will be lane closures overnight with one lane open in each direction, during the day traffic will operate as normal.
Some of the work will be carried out during the day over two weekends, to avoid disturbing nearby residents by making too much noise at night, while a high pressure water system is used to remove the old bridge joints. This work is scheduled for the weekends of 2 and 3 April and 7 and 8 May. During this work the A14 will be reduced to one lane in each direction.
There will be occasional overnight closures on the A14 to install crossovers which will allow traffic to use the contraflow.
Karl Brooks, Project Manager at Highways England, said:
Expansion joints help to protect the structure of the bridge by allowing small movements as traffic passes over it, and also allowing the bridge to expand and contract with seasonal variations in temperature. They are designed to last around 30 years or so, and the joints on this bridge have reached the end of their service life and need replacing.

We'll be carrying out this major bridge repair work overnight when it's generally less busy – minimising disruption to drivers. This work is necessary as the bridge joints need replacing.

During the day, all the traffic management will be removed and drivers can use both lanes in each direction.

Throughout the scheme, there will be a speed limit in place, which will be enforced. This is because during the day the exposed bridge joints will be covered with steel plates and the lower speed limit is necessary for driver's safety and to prevent them from dislodging.
There will be occasional overnight closures throughout the work; whenever a closure is in place there will be a clearly signed diversion route, with drivers diverted off the A14 at junction 49, to the A1308 Tot Hill, Bury Road, Gipping Way, Needham Road (through Stowmarket) and the A1120 back to junction 50.
The work is dependent on suitable weather conditions, and dates may be subject to change.
General enquiries
Members of the public should contact the Highways England customer contact centre on 0300 123 5000.
Media enquiries
Journalists should contact the Highways England press office on 0844 693 1448 and use the menu to speak to the most appropriate press officer.
Published 23 February 2016