News story
£15 million boost for 50 cutting-edge projects
Funding will support UK businesses to take forward cutting-edge and game-changing projects leading to new products, processes or services.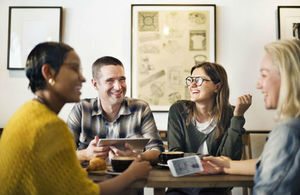 Innovative businesses across the UK will receive up to £15 million through Innovate UK's latest open funding competition. It comes through round 2 of our regular series of open competitions, which support good ideas with market potential.
A total of 50 projects involving around 75 partners were successful with applications. They will receive funding ranging from £25,000 to £1 million for projects lasting up to 36 months.
Examples include:
Biodice - a joint project between JWA Racing and the University of Birmingham - will support more sustainable transport by pioneering a scalable internal combustion engine that will lower fuel consumption, emission and costs
Petalite is developing a technology platform to speed up and improve electric vehicle battery charging
OMass Technologies' solution will more effectively assess and interface with membrane proteins. These are notoriously difficult to study, yet are important targets for drug discovery
Fionnuala Costello, Head of Open Programmes at Innovate UK, said:
I am very pleased that we have been able to fund such a wide range of innovative projects with great potential for return on investment for companies, both across the UK and across our major sectors.

Our next £15 million funding competition is now open for applications. These should have a similar potential to generate commercial impact and economic growth.
Published 29 June 2017