News story
15 communities chosen to run learning pilot schemes
The 'Community Learning Trusts' will involve colleges, adult education services, businesses and voluntary organisations working together with…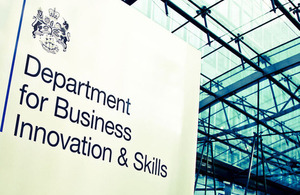 The 'Community Learning Trusts' will involve colleges, adult education services, businesses and voluntary organisations working together with their surrounding communities to provide courses that local people want.
The successful pilots range from five community learning forums being set up in regeneration areas in Sunderland, to a social enterprise in West Sussex which will expand the role of volunteer community champions to inspire people to get in to learning.
The pilot trusts will start in August and will work to:
Boost the number of people participating in learning.

Motivate and help people who are disadvantaged.

Have a positive impact on people's lives.

Generate income to reinvest in learning.
Mr Hayes said:
"Learning is the lifeblood of personal and economic growth in our local communities, which is why we are working with these fifteen pilots to pioneer new ways of learning that put local people at the forefront of the decision-making process.
"By bringing passion, purpose and innovative thinking to the pilot scheme, the Community Learning Trusts can change lives by transforming attitudes and abilities, bringing communities together to nurture the common good."
Verity Bullough, Executive Director of Capacity and Infrastructure, Skills Funding Agency said:
"We expect to learn a great deal from these innovative pilots. They will be leading the way in showing how an inclusive, locally-based community learning offer - supported by the effective targeting of public money and income generated from other sources each pilot has identified - can positively and measurably impact on the social and economic well-being of individuals, families and communities".
David Hughes, Chief Executive of NIACE said:
"The Government's support for these 15 Community Learning Trust pilots shows that they understand the value of, and are committed to supporting community learning. NIACE has always advocated for learning which empowers adults and the communities they live in.
"We know that a better understanding of what people want to achieve and a joint approach to designing learning leads to better outcomes.
"We are excited to be supporting and learning from these pilot Community Learning Trusts and look forward to the ideas and processes they will formulate over the next twelve months which will set the agenda for community learning in the future."
In another initiative which will work alongside the Community Learning Trusts, John Hayes announced this week that UK Online centres are testing thinking around community 'e-reading rooms', which will provide free and friendly access to computers. This will build on their success after they helped to get one million people online in the past two and half years, reaching their target six months early.
**Notes for Editors
**1. The successful Community Learning Trusts now invited to run pilots in 2012/13 are; Birmingham CLT, Blackburn with Darwen (Sustainable Neighbourhood Services), Brighton and Hove Community Learning Trust BHCLT, CLCumbria (CLC), Community Learning in Cheshire (CLiC), Derby Community Learning Trust, Kent Community Learning Trust, Learning-for-All (Bedfordshire and Luton), Liberate (West Sussex), Sheffield Community Learning Trust, Sunderland's Community Learning Trust, The Luton Trust, The Solihull Source, Trust in Learning - new curriculum, in new places for new learners in Exeter and West of England Community Learning Trust (Bristol). For more information on individual pilots, please contact the BIS press office. Kent Community Learning Trust agrees to join the 15 strong CLT pilot scheme, following Liverpool Opportunities for Community Adult Learning (LOCAL) unfortunately having to decline their invitation to take part.
In April 2012 a Community Learning Trust Prospectus invited directly-funded providers who receive an allocation from the BIS £210m Community Learning budget to put forward a proposal to become a pilot trust. The prospectus can be seen at http://www.bis.gov.uk/community-learning-trust-pilots.

78 proposals (involving over half of all Agency-funded Community Learning providers) to set up Community Learning Trusts were received. Each trust has identified specific themes that it proposes to explore in depth, including measuring social impact, attracting and motivating specific disadvantaged groups, using virtual learning environments and widening participation in rural areas.

Pilots will begin work in August 2012. If the pilots are successful, trusts will be rolled out more widely.

In December 2011 New Challenges, New Chances _Further Education and Skills System Reform Plan: building a world class skills system _set out new aims and objectives for the £210m per year community learning budget in England and the Department's intention to pilot a range of community learning trusts models from August 2012.

BIS-funded Community Learning covers a broad range of courses, usually unaccredited, that bring together adults of different ages and backgrounds to pursue an interest, address a need, acquire a new skill, become healthier or learn how to support their children.

With over 3800 partner centres, the UK online centres network aims to address social and digital exclusion via access to computers - inspiring people to get online, and supporting them to gain the skills and confidence they need to use the internet and to take advantage of online public services. Their mission is to get more people online, improving individual lives and strengthening local communities. They have received support from BIS over three years to help an additional one million people to get on line by 2013 and have achieved that milestone nearly 6 months early. For more information; http://www.ukonlinecentres.com/.

The Government's economic policy objective is to achieve 'strong, sustainable and balanced growth that is more evenly shared across the country and between industries.' It set four ambitions in the 'Plan for Growth' (PDF 1.7MB), published at Budget 2011:
To create the most competitive tax system in the G20

To make the UK the best place in Europe to start, finance and grow a business

To encourage investment and exports as a route to a more balanced economy

To create a more educated workforce that is the most flexible in Europe.
Work is underway across Government to achieve these ambitions, including progress on more than 250 measures as part of the Growth Review. Developing an Industrial Strategy gives new impetus to this work by providing businesses, investors and the public with more clarity about the long-term direction in which the Government wants the economy to travel.
BIS's online newsroom contains the latest press notices and speeches, as well as video and images for download. It also features an up to date list of BIS press office contacts. See http://www.bis.gov.uk/newsroom for more information.
Notes to Editors
Contact Information
Name BIS Press Office Job Title
Division Department for Business, Innovation & Skills Phone
Fax
Mobile
Email bispress.releases@bis.gsi.gov.uk
Name Victoria Heath Job Title Ms Division Department for Business, Innovation & Skills Phone 020 7215 5950 Fax
Mobile
Published 13 July 2012