News story
140/2012 - Model warship creates perfect Bond with Westminster
When the world premiere of James Bond film 'Skyfall' opened its doors, sailors from HMS Westminster spied the perfect opportunity to pay tribute to one of the most famous fictional naval commanders.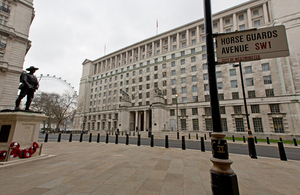 Lining the red carpet as stars including Daniel Craig and Naomie Harris attended the glittering event at the Royal Albert Hall last night were eight junior ratings from the Royal Navy warship accompanied by four Royal Navy Commanders.
They were deliberately chosen to represent the Service due to the ship's starring role in 1997 when she played the parts of HMS Chester, Bedford and Devonshire in 'Tomorrow Never Dies'. The character of James Bond is also a Royal Navy commander-turned-spy.
One of the lucky sailors was 25 year-old Lisa Burt from Portsmouth.
The Leading Seaman said: "It's been a great opportunity, after so long away, to enjoy a very special day in our affiliated city - and to be one of the first few to see the great new James Bond film Skyfall."
Joining the HMS Westminster crew at the Royal event, which was attended by HRH The Prince of Wales, was Her Majesty's Band of the Royal Marines Portsmouth. The band performed a drum march on the red carpet and a stunning medley of Bond theme tunes to mark the 50th anniversary of James Bond.
The star-studded evening followed a formal presentation of a five-foot long scale model of the Type-23 frigate to the Lord Mayor of Westminster by Commanding Officer Captain Hugh Beard.
Capt Beard and nine members of the ship's company visited Westminster city hall for the handover, and were hosted for lunch by the Lord Mayor Councillor Angela Harvey to mark the strong affiliation with the between the two.
The Lord Mayor of Westminster said:
I am delighted to welcome members of HMS Westminster's crew to City Hall to formally receive into our safekeeping the scale model of the ship. I hope to continue the City of Westminster's special relationship with the ship and ship's company in the future and hope they had plenty of fun at the 'Skyfall' premiere.
HMS Westminster, which is based in Portsmouth, recently returned from a seven-month deployment to the Middle East where she clocked up more than 44,000 miles carrying out maritime security patrols and disrupted pirate attacks targeted at merchant shipping.
Capt Beard said:
Westminster has just returned from a very successful deployment to the Middle East providing security at sea disrupting three major pirate groups and seizing 191kg of raw heroin ($25m).
She also worked closely with regional and many western allies promoting partnerships and bolstering security in the vital sea lanes and helped provide a stabilising influence over trade and energy routes to help protect our economy.
Today, as the ship undergoes maintenance ready for her next tasking, is an opportunity to reaffirm links with the City of Westminster and support our ties with the iconic character of Commander James Bond.
Published 23 October 2012