Press release
£14 million now available to farmers for water and woodlands
The first grants have opened up under the new Rural Development Programme for England.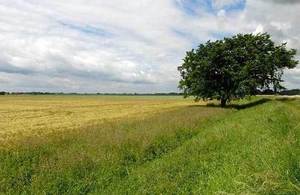 Farmers will soon be able to apply for new grants to help them protect the environment and reduce water pollution. Environment Minister, Dan Rogerson, announced today that Natural England will be accepting applications for Water Capital Grants from 2 March.
Providing £10 million worth of government funding to the farm industry, these grants will fund new projects to reduce the impact agriculture can have on water quality.
Dan Rogerson made the announcement a week after applications were invited for Woodland Capital Grants. Farmers, land managers and foresters are encouraged to apply for grants, worth a total of £4 million to create new woodland, while protecting our existing forests and restoring tree health.
Environment Minister Dan Rogerson said:
We want the UK's farming industry to be the best in the world by enabling the sector to reach its full potential.

Thanks to our funding, farmers can now develop exciting new projects that will bring real benefits to the environment by making our water cleaner and protecting our valuable woodlands.

These grants are just one part of the wider Countryside Stewardship Scheme that will see millions of pounds worth of investment to help farmers and land managers protect the environment, building a stronger rural economy and fairer society.
The new water grants build on the successful Catchment Sensitive Farming Scheme. Between 2011 and 2014, over 6,200 farms across the country benefitted from a total of £72 million. For instance, Town End Farm in Troutbeck, was able to build a roof which covered livestock and diverted rain water, while Grange Farm in Hampshire, created a fenced area for cattle to drink, preventing contamination of the local stream.
With the government funding up to half the cost of such schemes, farmers have been able to reduce the agriculture industry's impact on water quality, protect the water environment and boost efficiency.
The Water and Woodland Capital Grants make up the first phase of the Countryside Stewardship Scheme. Set to be rolled out in full later in the summer, Countryside Stewardship will commit around £900m to benefitting the environment over the next six years. This will help farmers and land managers develop environmentally friendly techniques and adopt initiatives such as restoring hedges and improving water quality.
Published 25 February 2015