World news story
130 years of ties celebrated at Queen's Birthday Party
The British Embassy in Seoul held official birthday celebrations for Her Majesty the Queen.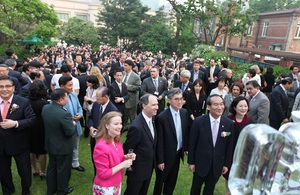 The Queen's Birthday Party is the highlight of the events calendar for British embassies all over the world.
This year's event at the Ambassador's Residence in central Seoul was a cause for further celebration as the UK and Korea mark 130 years of diplomatic relations.
More than 400 guests from business, politics, and the media gathered yesterday to network and honour the historic partnership.
British Ambassador to Korea Scott Wightman said:
Today, as we honour the Queen and her remarkable service to the United Kingdom and the people of the Commonwealth, we also celebrate the close friendship between the UK and Korea. Ours is a partnership based on shared values and principles. History binds us together and I'm confident that this close relationship will continue to grow as we expand our political, cultural and economic cooperation.
Invitees viewed a photo exhibit documenting key moments in the UK-Korea relationship. Contemporary Britain was under the spotlight too through GREAT, the UK government's biggest ever marketing and communications campaign. Guests were treated to delicious British food and drinks, watched star-studded video clips celebrating UK creativity and innovation and sampled leading British lifestyle products.
Korean Minister of Patriots and Veterans Affairs Park Sung-Choon delivered the official welcoming speech.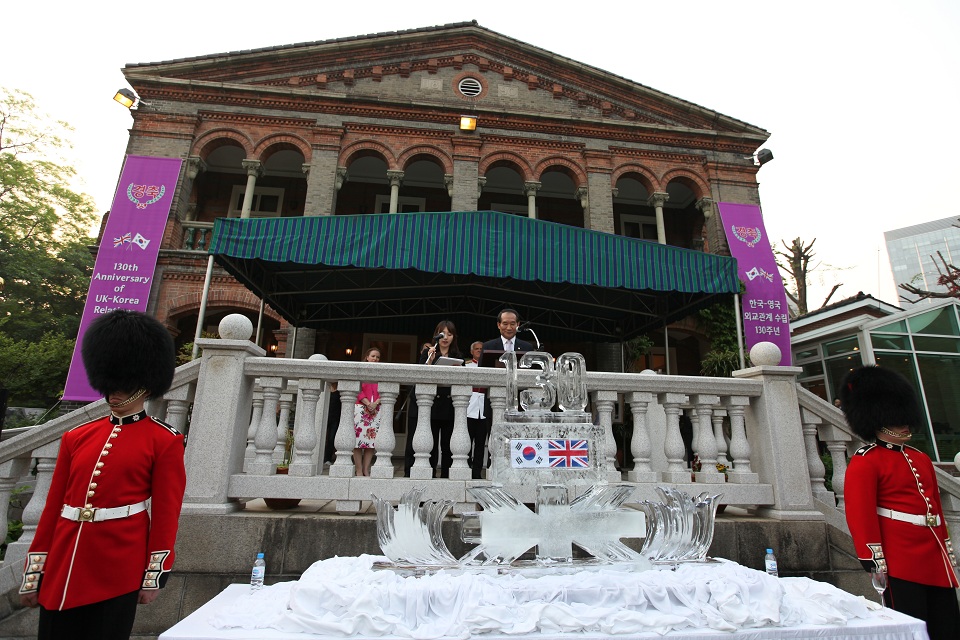 He said:
You have my congratulations as we celebrate the Official Birthday of Her Majesty the Queen and my hope that our two governments will look to every opportunity to further enhance our bilateral partnership.
Diplomatic ties between the UK and Korea were formalised in 1883 when British diplomat Sir Harry Parkes signed a treaty with Min Yong-mok in Gyeongbuk Palace. The British Embassy has stood on its current site next to Deoksu Palace since the late 19th century. Today, the countries cooperate on regional and international peace and security and have a trade relationship worth over £7bn in goods alone.
Published 24 May 2013