News story
£11 million testing facility to make air travel safer
Chipir' will be the first dedicated facility outside of the US to look at how silicon microchips respond to cosmic radiation. It will use an…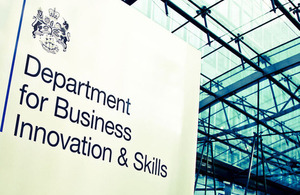 Chipir' will be the first dedicated facility outside of the US to look at how silicon microchips respond to cosmic radiation. It will use an intense beam of high-energy neutrons produced by ISIS, a set of super microscopes that enable scientists to study materials at a level 10,000 times thinner than human hair.
Cosmic radiation has the power to cause the failure of electronic systems, particularly in aircraft and road vehicles. Problems can range from wiping a device's memory to complete destruction of the electronics. The new neutron beam line will replicate the cosmic radiation affecting microchips from 100 years of flying time in the space of an hour. The findings will help manufacturers build more reliable electronic systems, which will in turn make planes and cars safer.
Announcing the funding during a visit to the STFC Rutherford Appleton Laboratory, Minister for Universities and Science David Willetts said:
"ISIS is one of the UK's major scientific achievements. It supports an international community of 2,000 scientists including physicists, biologists, engineers and geologists and helps us learn more about the material world.
"This new beam line will enable scientists to test the very systems that we rely upon the most - the electronic components that keep planes in the air and make sure car airbags deploy at the right time. Chipir will be the world's best facility for screening microchips with neutrons, leading to safer, more reliable electronic systems and encouraging leading scientists and manufacturers to do their research in the UK."
Chipir Project Scientist Dr Chris Frost said:
"I am absolutely delighted that the Chipir project is being funded as I have been working with colleagues from UK and European industry over the last few years to study the huge impact that cosmic ray neutrons can have on the operation and reliability of modern electronics. Our all pervasive reliance on electronics in everything from aircraft systems to medical equipment to computer and communication networks means that making the ISIS facility a key tool for understanding and overcoming this industry wide problem is a very exciting prospect."
Chipir will be funded by the Large Facilities Capital Fund, which is administered by central Government. The investment will cover the construction of the facility and the necessary software to record the data from the microchip testing.
ISIS is owned and operated by the Science and Technology Facilities Council. It has been running for over 25 years, produced over 9,000 research papers and improved the performance of a range of materials, including pharmaceuticals and fuel cells.
Notes to editors:
The Large Facilities Capital Fund (LFCF) is used for providing additional capital for priority projects to Research Councils, of which the Science and Technology Facilities Council (STFC) is one.

STFC is one of the seven UK Research Councils principally funded through the Government's Science Budget which is administered by the Department for Business, Innovation and Skills (BIS). Each year a total of around £2.5 billion is invested in research conducted at UK universities, Research Council Institutes, and in securing access to international facilities for UK researchers. Together the Research Councils cover the full spectrum of academic disciplines from the medical and biological sciences to astronomy, physics, chemistry and engineering, social sciences, economics, and the arts and humanities.

ISIS is a world-leading centre for research in physical and life sciences operated by the Science and Technology Facilities Council at the Rutherford Appleton Laboratory in Didcot, Oxfordshire. ISIS produces beams of neutrons and muons that allow scientists to study materials at the atomic level using a suite of instruments, often described as 'super-microscopes'. It is the most productive research centre of its type in the world. More information can be found at www.isis.stfc.ac.uk.

BIS' online newsroom contains the latest press notices, speeches, as well as video and images for download. It also features an up to date list of BIS press office contacts. See [http://www.bis.gov.uk/newsroom](http://www.bis.gov.uk/newsroom) for more information.
Notes to Editors
Contact Information
Name BIS Press Office Job Title
Division COI Phone
Fax
Mobile
Email NDS.BIS@coi.gsi.gov.uk
Name Sally Catmull Job Title
Division Department for Business, Innovation and Skills Phone 020 7215 6577 Fax
Mobile
Published 14 March 2011