Press release
£11 billion Olympic legacy target smashed during UK's biggest ever Export Week
UK has met a 4 year target to raise £11 billion worth of economic benefit from the London Olympic and Paralympic Games in just over 1 year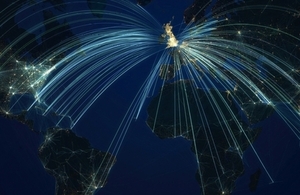 The UK economy has benefited from a £11.06 billion trade and investment boost through businesses securing contract wins, additional sales and new foreign investment.
The £11.06 billion figure includes £130 million of contracts won by UK companies for the Brazil 2014 World Cup and the Rio 2016 Olympic and Paralympic Games. More than 60 UK companies have also won contracts for the Sochi 2014 Winter Olympics, most of them mid-sized enterprises.
UK Trade & Investment's (UKTI) British Business Embassy at Lancaster House started the Olympic legacy drive last year by hosting a Global Investment Conference and a series of 17 business events.
The target was surpassed during the UK's biggest ever Export Week which has seen around 5,000 companies taking part in regional events to encourage UK companies to export and a raft of new deals signed up and down the country.
Trade and Investment Minister Lord Green said:
The delivery of London 2012 on time and on budget led to hosting nations turning to the UK to help deliver their own events with supply opportunities running into the billions.

UK Trade & Investment has played a key role in helping British companies maximise these opportunities and the result is a £11.06 billion boost to the UK economy from the Games, reaching our 4 year target in just over a year.

The UK's future prosperity will not come from relying on domestic markets alone and we have seen a major push to encourage firms across the UK to sell overseas during our biggest Export Week yet.
During Export Week a new national campaign, Exporting is GREAT, launched targeting almost 3 million people to generate 3,000 appointments with UK Trade and Investment (UKTI) Advisers and drive £1.2 billion in export revenue. One of the businesses featured as part of the campaign engineering consultancy, Cundall, prepared the engineering design for the Lee Valley White Water Centre for London 2012 and is now contributing to the engineering design of the Rio 2016 Olympics white water canoe course venue.
Carole O'Neil, a partner at Cundall said:
London 2012 showcased UK expertise and talent to the world and has helped us to win work at RIO 2016. Our ambition now is to win work at every Olympics.

I would encourage other companies thinking about growing their business to look overseas and exploit the demand for products that are made and designed by British companies.
Other deals announced during Export Week included:
in Worthing, a firm that started life in a spare room 30 years ago has announced global sales of £4 million. The 155 strong staff at Electronic Temperature Instruments Ltd produce digital thermometers and exports have doubled over the last 3 years, now making up 40% of their almost £10 million turnover
in Buckinghamshire, successful food company The Kids Food Company Ltd has forecast sales of £2.5 million in the next 12 months and £12.5 million in 4 years time. Its products are now on sale in 1,400 stores across the USA, including Toys R Us and Amazon.com. The firm is also in advanced talks with major companies in China, South Korea, Australia, Spain and Scandinavia
in Hastings, a small electronics firm Hastel Ltd has won an order worth £1.2 million, to help monitor power generators across India. The company has won an initial order to supply 10,000 monitors for use across India, following a UKTI trip to assess the market
in Nottingham, specialist safety systems company Roodsafe has secured a contract to help construct the King Abdullah Football Stadium in Saudi Arabia. The company is currently installing more than 5 kilometres of cable based fall-restraint systems on the stadium in Jeddah, the largest and most expensive in the world, which will be completed in December 2013
in Derbyshire, specialist logistics firm, Cargo Link Express Limited, has opened a new office in Libya, just 12 months after visiting the market with UKTI
also in Derbyshire, Belper-based lingerie and nightwear company Slenderella is keeping people warm around the world this winter after winning new overseas orders worth more than £25,000, less than 4 months after beginning to work with UKTI
Business Secretary Vince Cable led a trade visit to Russia during Export Week with over 30 British companies aiming to boost the fast growing economic links between the 2 countries. Among the new deals signed on the trip was a new £30 million fund to help small businesses export to Russia.
The government's long term vision for the legacy of the Olympic Games aims to use the inspirational power of 2012, and future major sporting events, to set the long term ambitions for delivering lasting change in sport, our communities, the economy, regeneration of east London and driving forward the cause of disability equality. Just as the Games took 10 years to win, plan and deliver, so legacy must be seen as a 10 year project to realise lasting change and growth - UKTI's efforts in securing a long term economic benefit increasing exports and attracting investment is part of this vision.
Notes to editors:
In November 2011 the Prime Minister and Lord Green launched the National Challenge - a major initiative to boost the number of SMEs that export - setting the target of getting up to 100,000 SMEs to either start exporting for the first time or spread to new markets over the next 5 years.

Exporting is GREAT will reach almost 3 million individuals and 700,000 businesses with more than 4 employees, giving them a very specific call to action: to contact UKTI to find out more about exporting. It is intended to generate over 3,000 appointments with UKTI International Trade Advisers, giving small businesses direct access to expert advice, support and finance to help them export. The campaign will cost £2.4 million and drive £1.2 billion in incremental export revenue from the leads it generates. The campaign creative features 2 SMEs who have grown their business internationally as a result of UKTI advice. Their case studies are available from the UKTI press office. For more information, SMEs should go to www.greatbusiness.gov.uk/ukti or call 0800 093 2094.

Export Week is a major component of the National Challenge and is part of a concerted campaign led by Lord Green to increase the number of British companies that export, from current levels of around 20% to 25% or more. By increasing the number of companies that export by roughly a quarter, about £36 billion could be added to the UK economy. Any company wanting to take part in Export Week can get involved by visiting the dedicated website at www.exportweek.ukti.gov.uk which gives details of events in each area.

In the 2012 Autumn Statement, UKTI was awarded an additional £70 million for each of 2013/14 and 2014/15, enabling the recruitment of more international trade advisers around the country, expansion of existing services including the Trade Access Programme (TAP) and the Overseas Market Introduction Service (OMIS), and support to expand the range of assistance available to UK companies through overseas British chambers of commerce.

The government's economic policy objective is to achieve 'strong, sustainable and balanced growth that is more evenly shared across the country and between industries'. It set 4 ambitions in the 'Plan for Growth', published at Budget 2011:

to create the most competitive tax system in the G20
to make the UK the best place in Europe to start, finance and grow a business
to encourage investment and exports as a route to a more balanced economy
to create a more educated workforce that is the most flexible in Europe The UK has met a 4 year target to raise £11 billion worth of economic benefit from the London Olympic and Paralympic Games in just over 1 year.
Work is underway across government to achieve these ambitions, including progress on more than 250 measures as part of the Growth Review. Developing an Industrial Strategy gives new impetus to this work by providing businesses, investors and the public with more clarity about the long-term direction in which the government wants the economy to travel.
6.UK Trade & Investment (UKTI) is the government department that helps UK-based companies succeed in the global economy. We also help overseas companies bring their high quality investment to the UK's economy – acknowledged as Europe's best place from which to succeed in global business. UKTI offers expertise and contacts through its extensive network of specialists in the UK, and in British embassies and other diplomatic offices around the world. We provide companies with the tools they require to be competitive on the world stage. For more information on UKTI, visit www.ukti.gov.uk or visit the online newsroom at www.ukti.gov.uk/media.
Published 16 November 2013