News story
£10m government funding for 2014 Tour de France
Organising committee set up to manage 'Grand Depart' of world famous bike race.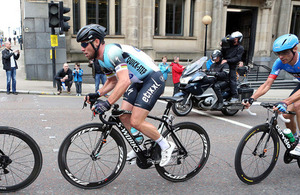 Sports Minister Hugh Robertson has announced today that government will provide up to £10 million worth of funding to help host the opening stages of the 2014 Tour de France in Yorkshire and the 3rd stage from Cambridge to London.
Sports Minister Hugh Robertson said:
The Tour de France is the biggest event in cycling and for this country to host the Grand Depart is a real honour. We want to help deliver a world class event that boosts all the local economies where the race will pass through, and encourage more people to get involved in cycling. I look forward to working together with all the key stakeholders in achieving this.
Government funding channelled through UK Sport will be used to help maximise the economic benefits of hosting the Grand Depart in the UK, and help leave a legacy from the event that further strengthens cycling in Britain.
New organising committee
A new organising committee (TDF 2014 Ltd) will also be established to deliver the two road stages in Yorkshire that begin in Leeds on 5 July 2014, and the third stage from Cambridge to London.
The committee's board will have representation from Yorkshire and Cambridge local authorities, as well as British Cycling, Transport for London and UK Sport. The board will be chaired by Sir Rodney Walker, the former chair of UK Sport and will also include Leader of Leeds City Council, Councillor Keith Wakefield and Welcome to Yorkshire chief executive Gary Verity.
Further information
Mark Cavendish image by British Cycling on flickr. All rights reserved.
Published 25 July 2013