News story
£10m funding for three low carbon vehicle R&D projects
These projects have been developed by EPSRC with the Technology Strategy Board (TSB) through the Low Carbon Vehicle Innovation Platform Integrated…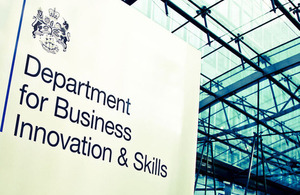 These projects have been developed by EPSRC with the Technology Strategy Board (TSB) through the Low Carbon Vehicle Innovation Platform Integrated Delivery Programme.
They will cover scientific and engineering issues related to:
hybrid electric vehicles subsystems, enabling the design of more efficient vehicles;
the use of recycled and recyclable materials for manufacturing vehicles, reducing their environmental footprint; and
optimising the performance of electric motors and power electronics.
Mark Prisk made the announcement at the opening of a new exhibition at the Department for Business, Innovation and Skills (BIS) to showcase UK manufactured low carbon vehicles.
Business Minister Mark Prisk said:
"The Coalition Government is absolutely committed to low carbon growth, tackling climate change and making our energy supply more secure.
"This exhibition highlights UK success as advanced manufacturers of low carbon vehicles and the £10m research grant will help ensure that the UK remains a world leader."
Chief Executive of the Engineering and Physical Sciences Research Council, Professor Dave Delpy, said:
"As part of the Integrated Delivery Programme, EPSRC will be supporting a strategic programme of university-based research. The provision of high quality academic research ideas provides the basis for businesses to translate science into the vehicle market."
Universities and Science Minister David Willetts said:
"Our world class science and research base is critical to promoting economic growth in emerging technologies, including low carbon vehicles.
"We have protected the science and research budget for the next four years. This will boost employment and instil the confidence of other investors. But, above all, it will improve people's quality of life by pushing at the frontiers of our knowledge."
EPSRC and the TSB are working together to support businesses by ensuring that emerging science is pulled through the innovation chain to market.
The successful projects will be based at Loughborough, Brunel and Warwick Universities.
The Low Carbon vehicle exhibition is the sixth in a rolling series held at BIS to promote UK manufacturing excellence to businesses and Government officials who visit the department and our conference centre. It will run until March 25.
Exhibits include:
Hydrogen fuel cell taxi produced by Intelligent Energy
Range Rover Range_e
Nissan Leaf
Ford Transit Connect EV
Toyota Auris
Lotus Ranger Extender Engine
Electric car battery made by Axeon
The MAHLE advanced downsizing demonstrator engine
Pod Point recharging points
Audio visual display of Leyland Truck's DAF LF Hybrid truck
Notes to editors
EPSRC is the main UK government agency for funding research and training in engineering and the physical sciences, investing more than £850 million a year in a broad range of subjects - from mathematics to materials science, and from information technology to structural engineering.
2.Axeon is one of Europe's foremost producers of Li-ion battery systems for** electric vehicles (EVs) and Hybrid electric vehicles (HEVs). Axeon's battery and charger systems are designed and manufactured to full automotive standards. Axeon works with most of the world's advanced cell manufacturers. The battery in the exhibition was developed with part-funding from the UK government's Technology Strategy Board. This project aimed to develop an innovative high energy density battery system for an emission-free electric **small city car.
Ford Transit Connect EV. Product development for the ongoing Connect EV development has been done in conjunction with the TSB and Canadian company, Azure Dynamics. The Transit Connect base vehicle was designed and engineered at Ford's Dunton facility. The Connect EV has zero emissions at tailpipe and an 80 miles urban range and with a 3.8m cubic volume / 480kg payload there is no reduction of load volume versus diesel equivalent. It has a max speed 75mph and low running costs and is currently operating in the TSB-funded Ultra Low Carbon Vehicle Demonstration project. There are currently 15 vehicles on test in London and surrounding area in partnership with Scottish and Southern Energy and London Borough of Hillingdon. Ford are now taking orders for the production van with first UK deliveries starting July.
Gordon Murray Design (GMD). Since its creation GMD has been focussed on the T25 vehicle concept and the T27 (an all electric demonstration prototype part funded through Technology Strategy Board), and the iStream manufacturing process that employs a revolutionary way of designing and manufacturing vehicles, taking full account of whole life use of scarce resources and energy, coupled with total carbon usage. The T25 utilises the iStream process and is a radical, innovative design for a new type and class of personal transport vehicle that offers solutions to reduce congestion and parking problems whilst addressing the issue of full lifecycle CO2 damage. It is designed and packaged to protect mobility, personal freedom and driving 'fun' whilst greatly reducing the environmental damage from vehicle manufacturing. The T.25 architecture, packaging, materials selection and manufacturing process could herald the biggest revolution in the mass production of cars in the last 100 years.Professor Gordon Murray set up Gordon Murray Design (GMD) in 2005 following a long and successful career in motorsport and high performance car design.
5.** Intelligent Energy.** While the taxi looks and drives like an iconic London black cab it is powered by an Intelligent Energy hydrogen fuel cell system hydridised with lithium polymer batteries; allowing the vehicle to operate for a full day without refuelling. Capable of a top speed of 80mph, it has a range of over 250 miles on a full tank of hydrogen and can refuel in 5 minutes. It produces no emissions other than water vapour.The taxi was developed with help from the TSB by a consortium including; Intelligent Energy, Lotus Engineering, LTI Vehicles and TRW Conekt.
6.** JLR.** The Range_e is a development model equipped with an advanced plug-in hybrid diesel-electric powertrain that Land Rover expects to make available in future production models, following the scheduled launch of its diesel-electric hybrid in 2013. Based on a Range Rover Sport the Range e uses the current 3.0-litre TDV6 diesel engine, working with an eight-speed ZF automatic transmission and a 69kW electric motor. Range_e can be driven on electric power alone for more than 20 miles, with zero tailpipe emissions. A full recharge from a standard domestic power supply can be accomplished in around four hours. Overall CO2 emissions are just 89g/ and a top speed of around 120mph, delivering 85mpg. Improved fuel efficiency from the hybrid system makes 690 miles possible on a full tank of fuel. Range_e is also engineered with the same full 4WD capability as the standard Range Rover Sport.** **The Range_e is one of a number of Land Rover projects supported by the Technology Strategy Board.
Leyland Trucks (LT) Leyland will be showing a small audio visual display and pop-ups on their Daf LF Hybrid truck. Leyland started production of the hybrid distribution truck at its Leyland, Lancashire plant in December 2010. The vehicle uses a parallel diesel electric hybrid system. A diesel engine drives the truck directly or via an electric motor or a combination of both. The system delivers fuel and emission savings of between 10 and 20%, depending on use. The 12 tonne truck has a 4.5 litre Paccar 160 hp diesel that meets Euro V emission standards. This drives through an automatic Eaton six-speed gearbox with an electric motor between the clutch and gearbox; the unit can provide power or work as a generator, storing energy in lithium-ion batteries for use when accelerating. The truck is only 300kg heavier than a standard model and offers a 7.5 tonne payload capacity. The LT display on 15 March will be manned by Ray Ashworth, Managing Director, Daf Trucks UK and Rob Lawton, LT's Chief Low Carbon Engineer. Unfortunately space and weight issues on the front forecourt preclude the display of a truck at the showcase.
Lotus Engineering. The production Lotus Range Extender is an extremely compact, lightweight, low-cost engine and generator, designed specifically for hybrid electric vehicles. The three-cylinder, 1.2 litre Range Extender engine will offer a fast route to market for manufacturers wanting to source a dedicated range extender. The high efficiency, low mass design will enable low emissions vehicles to be produced cost effectively across a wide range of hybrid vehicle applications, as already demonstrated in both the Lotus Evora 414E Hybrid and the PROTON Emas concepts, which were shown at the 80th International Geneva Motor Show this year.
Mahle Powertrain. The MAHLE advanced downsizing demonstrator engine has been in development since 2007. The project objective is to explore the efficiency and performance levels which can be achieved with the latest turbocharged gasoline engine technologies. The original engine (on display) used 2-stage turbocharging to achieve an output of 196 bhp from a displacement of only 1.2 litres. The latest engine uses a single turbocharger but still delivers 163 bhp combined with very good torque at low engine speeds. This engine is now installed in a VW Passat estate which is capable of nearly 50 mpg (New European Drive Cycle) combined with very strong performance and driveability. Petrol downsizing shows the way forward for mainstream, fuel-efficient vehicles.
Nissan**. **Nissan announced in March 2010 that Sunderland would produce the new Leaf electric car, which follows from a decision in 2009 to build its main European battery plant at Sunderland. The total investment will be £420m, safeguarding/creating over 560 jobs. Battery production will start in 2012, and LEAF production in 2013 with capacity up to 50,000 cars and 60,000 batteries a year. Nissan have established an EV Education Centre at the O2 that will simulate the experience of driving a LEAF and they have already spent around £1m on equipping dealerships and £900,000 adjusting their vehicles for UK requirements.
Pod Point Ltd. **Pod Point produce recharging points for electric vehicles. Each Pod Point can charge two vehicles simultaneously, which significantly reduces the effective cost per charging socket. Furthermore, Pod Points have a built-in feeder pillar which reduces the ground works required for each installation. POD Points use industry-standard foundations and electrical connections making POD Point extremely easy to install and connect using existing contractors with minimal additional training.
12. **Toyota**. **Toyota has reported better than expected sales since the Auris Hybrid went on sale in the UK in July 2010. Toyota started making the petrol/electric-powered vehicle in June, protecting 400 jobs at its Burnaston plant. It is the first mass-produced full hybrid car in Europe and the first hybrid engine built outside Japan (at Deeside).
BIS' online newsroom contains the latest press notices, speeches, as well as video and images for download. It also features an up to date list of BIS press office contacts. See http://www.bis.gov.uk/newsroom for more information.
Notes to Editors
Contact Information
Name BIS Press Office Job Title
Division COI Phone
Fax
Mobile
Email NDS.BIS@coi.gsi.gov.uk
Name Ashley Rogers. Job Title
Division Department for Business, Innovation and Skills Phone 020 7215 5971 Fax
Mobile
Published 15 March 2011