100,000 young people to become 'digital makers'
UK-wide campaign launches, to give 100,000 young people digital training this summer.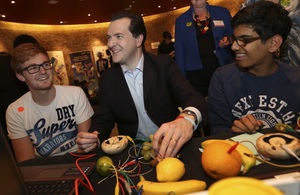 At the Roundhouse in London, Chancellor of the Exchequer, George Osborne officially launched the 'Make Things Do Stuff' campaign, to inspire a generation of kids to create, not just use, digital technologies.
The campaign, led by Nesta, Nominet Trust and Mozilla will bring together technology super brands like Facebook, big business such as 02 Telefonica and grassroots organisations who are already providing digital skills to young people in the UK.
Young people and businesses are encouraged to get involved and get behind the campaign.
Partners such as Games Britannia have already committed to delivering 3-days of free digital making workshops for 800 school children by September 15.
Partners can help by providing mentors, resources, or digital content
Launching the campaign the Chancellor met with a group of young people who have already signed up to participate in 'Make Things Do Stuff' activities, such as App and website creation.
Speaking at the event the Chancellor said:
Over the past few years, the UK's digital economy has boomed. But we cannot take this success story for granted. The government is investing in our digital infrastructure and putting computer science at the heart of the curriculum. And I am delighted to be launching the 'Make Things Do Stuff' campaign today.
By offering digital training to 100,000 youngsters in the coming months alone, this campaign is backing the entrepreneurs of the future and helping ensure that Britain is equipped to succeed in the global race.
A new website and series of UK-wide events will provide young people with access to digital tutorials covering Apps, animation, games, remixes, physical computing and websites.
A core feature of the campaign is the belief that one of the best ways to learn is by making something, whether that's an App, game, website or digital fashion.
Published 30 May 2013