100 days until the London 2012 Paralympic Games
The final countdown to the 'biggest Paralympics ever' begins.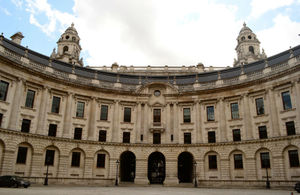 The Paralympic logo has been projected on to the White Cliffs of Dover to herald the final countdown to the London 2012 Paralympic Games.
Jeremy Hunt, Secretary of State for Culture, Olympics and Paralympics, Media and Sport, said:
"Britain is the home of the Paralympic movement, and it is incredibly exciting that in London 2012 we host the biggest Paralympics ever. Our Games will be a fantastic opportunity to celebrate disability sport and Team GB's inspirational Paralympic athletes."
It has also been announced the 22 Live Sites across the UK will screen eight hours of live Channel 4 coverage of the Paralympic Games every day from 29 August to 9 September.  Organisers have also confirmed that the 2012 Paralympics will be the biggest to date.
The International Paralympic Committee said athletes from 165 countries will compete in the Paralympics - 19 more countries than took part in the Beijing Olympics four years ago.
The number of competitors will also increase to around 4,200.
Chris Holmes, LOCOG's Director for Paralympic Integration, added "In 100 days time the London 2012 Paralympic Games will begin. I am looking forward to these being the most exciting Paralympic Games yet."
"If we get this right, the prize is clear, not just a great Paralympic Games, but a Games with the potential to fundamentally shift attitudes towards and opportunities for disabled people."
Award-winning band Coldplay has been revealed as the headliner for the closing ceremony, called 'Festival of Flame', on 9 September.
More than million remaining tickets for the Paralympics go on sale on the London 2012 ticketing website today.
Further information
Published 21 May 2012