100 days to go until the London 2012 Paralympic Games
As we enter the final countdown to the London 2012 Paralympic Games, the Foreign Office is celebrating the Games, and their contribution to creating a more inclusive world.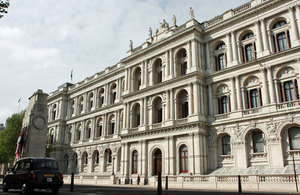 In 100 days, the Paralympic Games will come to the United Kingdom for the first time since its origins were founded in Britain in the 1948 Stoke Mandeville hospital games. From this humble beginning as a sporting event to help the rehabilitation of war veterans with spinal injuries, the Paralympic movement has grown phenomenally. In 2012 almost 4,200 athletes will compete in 20 sports over 11 days in London and we expect 2 million people to come to watch the events.
As well as inspiring performances from some of the world's greatest athletes, the London 2012 Paralympic Games is an opportunity to change attitudes to disability and help build a more inclusive society.
In the clip below, filmed on location at the Olympic Stadium during the lively School Games Final, Foreign Office Minister for the Olympics and Paralympics Jeremy Browne explains why he is looking forward to the Games. He hopes an important message will be sent around the world about the how the Games inspire people to achieve their potential, and in many cases, to overcome adversity.
British embassies and high commissions around the world are celebrating the 100 days to go milestone. In Botswana, the high commission has organised a 50km cycle race and a 100 metre race, which will bring together Paralympians and rural communities. In Bosnia and Herzegovina, an embassy team will challenge the national Paralympic Sitting Volleyball Team to a match and debate disability issues with students at the Sarajevo University. In the Philippines, the embassy has launched a photography competition on the theme "I Can", which will feature people of all abilities taking part in sport and demonstrate that disability need not be a barrier.
Published 21 May 2012